One bite of these scrumptious Pan Bagnat sandwiches (also called Tuna Niçoise Sandwiches) and you'll be transported to sunny, colorful Provence in the south of France. Quick and easy to prepare with pantry ingredients, these delectable sandwiches are impressive, reliable and a fun addition to any lunch or dinner. And, because they can be made ahead with no mayo, they're perfect for picnics and potlucks, too!
On my last trip to the Provence region in Southern France, I discovered a local delicacy in Nice called Pan Bagnat – a French baguette sandwich that's stuffed with the wonderful flavors of another well-known dish from Provence, Tuna Niçoise Salad. (You can find my favorite Niçoise Salad recipe in my cookbook, "Fresh Tastes.") In fact, Pan Bagnats are often referred to as Tuna Niçoise Sandwiches!
What's in Pan Bagnat?

There are many different recipes for Pan Bagnat floating around. My version includes flaky albacore tuna, tangy black olives, sweet peppers, colorful tomatoes, bright green onions, and piquant capers, all tossed with a lemon-tarragon vinaigrette. All this yumminess is stuffed inside a crusty French baguette.

It's a very flexible dish, and the ingredients can be varied based on what you like or have on hand. Other variations include hard-boiled eggs, anchovies, radishes, avocado, and even artichoke hearts or green beans.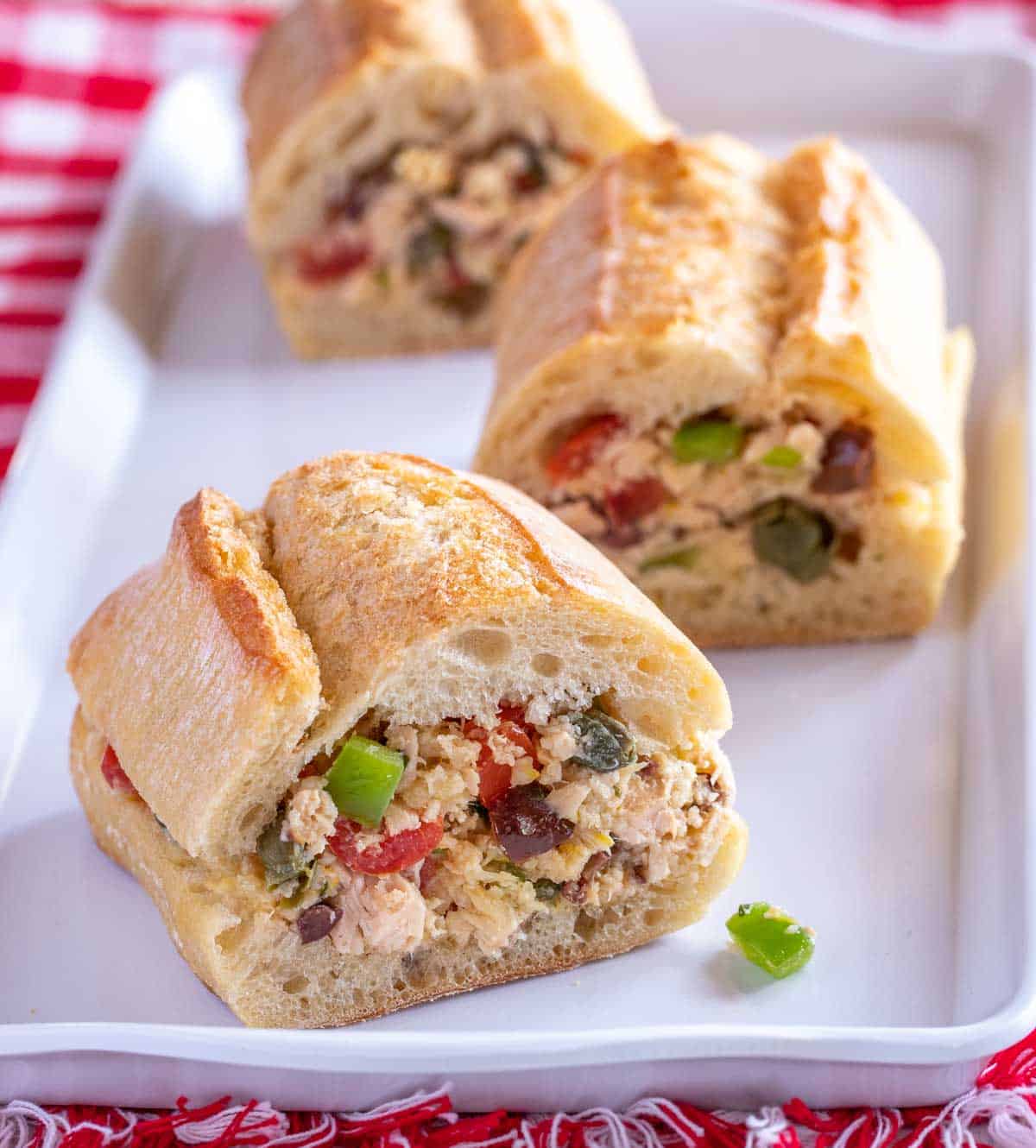 How do you make Pan Bagnat?

Traditionally, to make Pan Bagnat you slice a baguette horizontally, brush inside with olive oil, slice the other ingredients and stack them inside. Personally, I find the resulting sandwich with that method difficult to eat; whenever I take a bite, hunks of tuna and tomato end up falling out of the sandwich – and into my lap!

So, instead I chop and toss all the ingredients together with my lemon-tarragon dressing. I also remove some of the baguette's insides, chop it and mix it into the other ingredients. After stuffing, wrap the baguette with plastic wrap, then foil, and weigh it down with something heavy for around 10 to 15 minutes. This weighting presses some of the ingredient's juices into the bread, softening it a bit and also imbuing it with yummy Provençal flavors.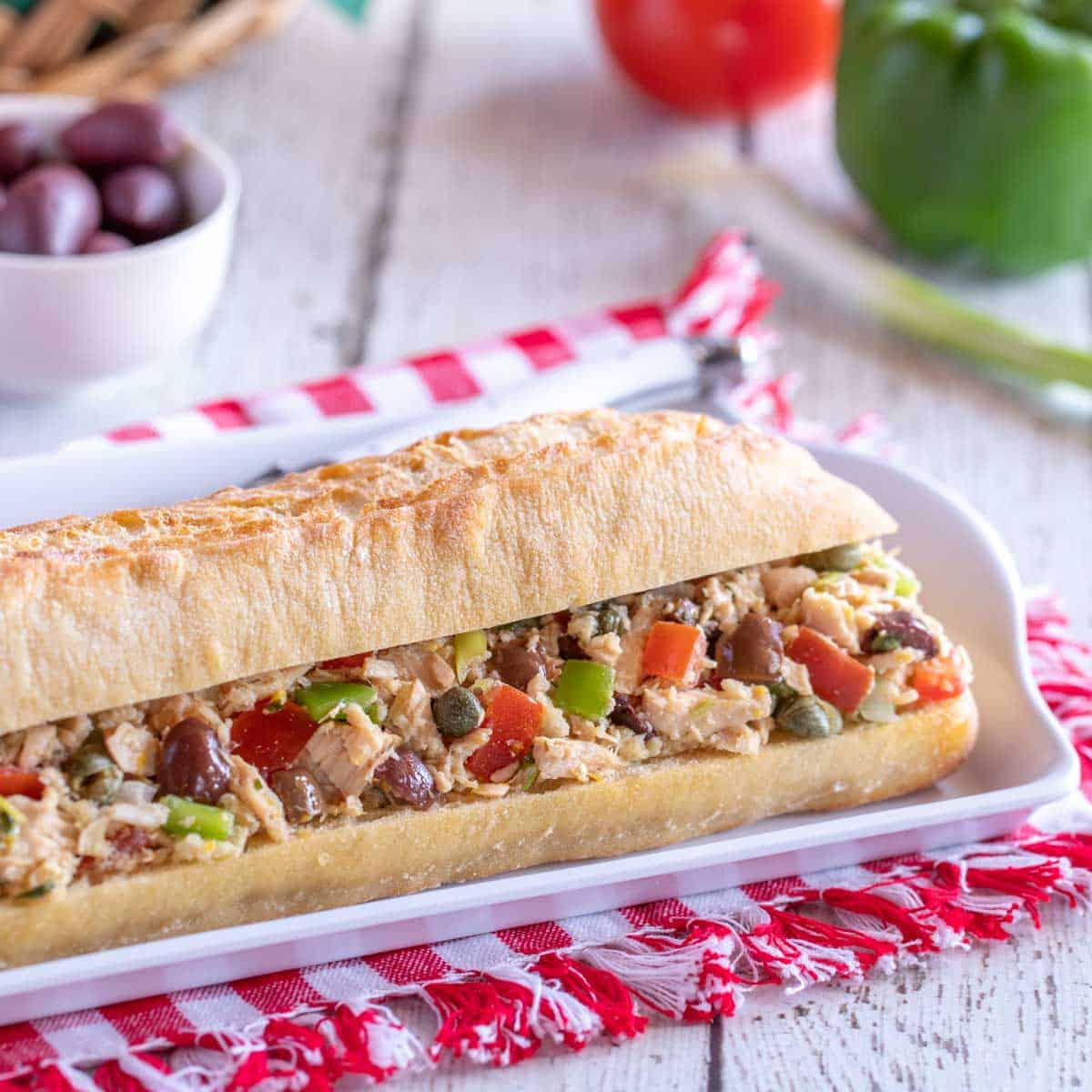 How do you serve Pan Bagnat?

The resulting Pan Bagnat is a wonderful blend of colors, flavors and textures. Simply slice the baguette into 3 pieces and serve.

Pan Bagnat can be prepared up to 24 hours ahead, making it perfect for busy day lunch or dinner. Serve it with arugula or spinach salad. It also travels well, making it perfect for potlucks and picnics, too!
Pin it now to save for later
More tuna recipes you might like
Print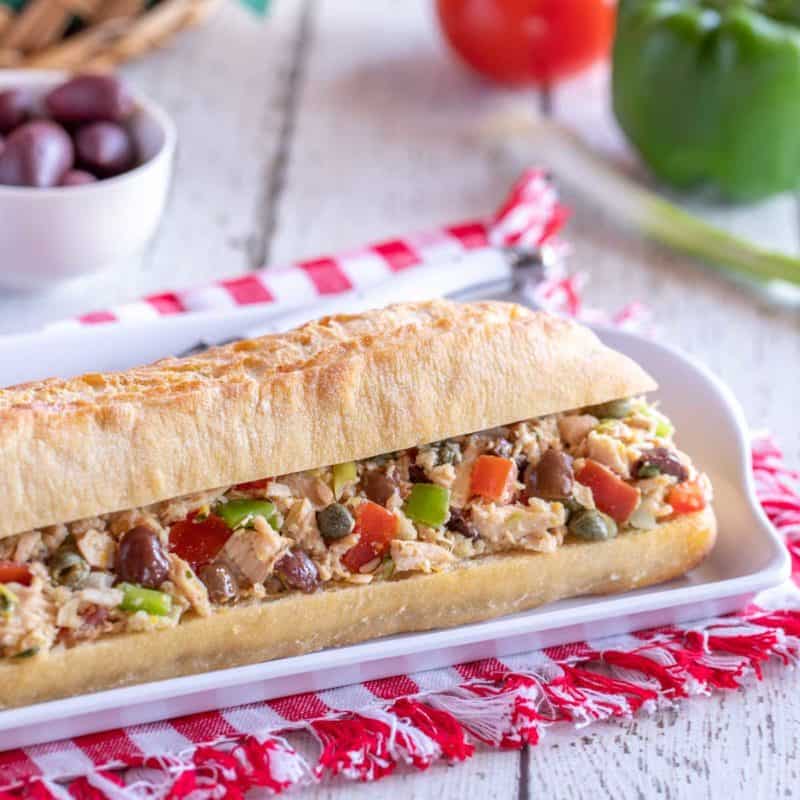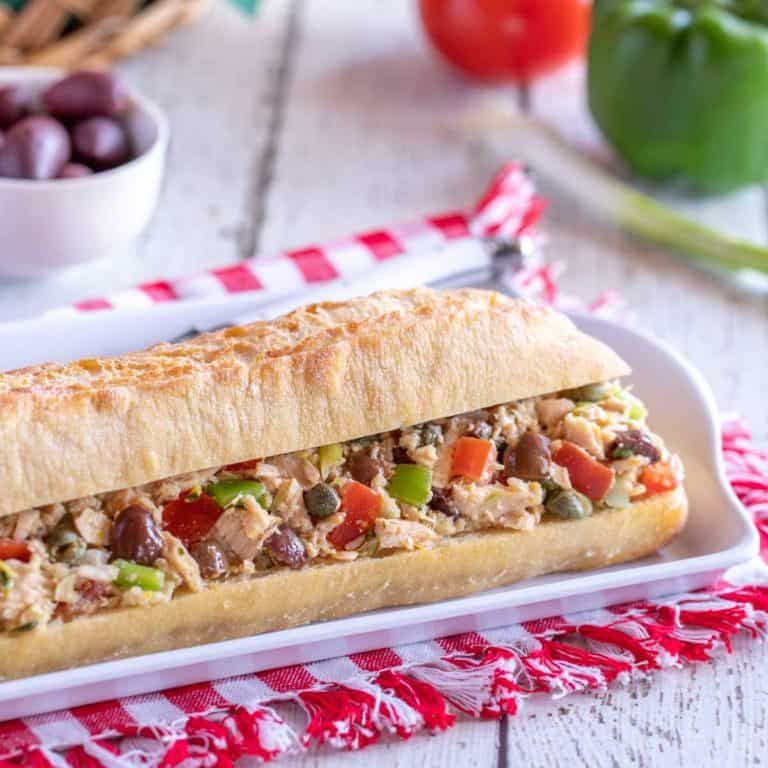 Easy French Pan Bagnat
Traditional flavors of Provence – tuna, olives, peppers, tomatoes, capers, olive oil – are pressed into a scrumptious crusty baguette in these Pan Bagnat (aka Tuna Nicoise Sandwiches). Quick and easy to prepare, they can be made ahead of time with no mayo, making them perfect for picnics and potlucks!
Prep Time:

25 mins

Cook Time:

10 mins (sitting time)

Total Time:

35 minutes

Yield:

2

to

3

servings

1

x
3 tablespoons

lemon-fused (or infused) extra virgin olive oil – see Note

1 tablespoon

white wine vinegar

3/4 teaspoon

lemon zest

3/4 teaspoon

chopped fresh tarragon
Kosher salt, to taste

1

(10 to 12 inch) French baguette

1

(5 ounce) can albacore tuna, drained – see Note

1

medium (4 to 5 ounce) tomato, cored, seeded and chopped

1

medium green bell pepper, cored, seeded and chopped

1

large green onion, chopped

2 tablespoons

chopped and pitted Niçoise or Kalamata olives

2 tablespoons

capers, drained
Fresh ground pepper, to taste
Instructions
In a small mixing bowl, whisk together the olive oil, vinegar, lemon zest and tarragon. Season to taste with kosher salt. Cover and let sit at room temperature.
Cut bread in half lengthwise. Scoop out bread from inside both halves, leaving 1/2-inch thick shells. In a food processor, process the bread until the consistency of panko breadcrumbs.
In a large mixing bowl, stir together breadcrumbs, tuna, tomato, bell pepper, green onion, olives and capers and mix well. Toss with dressing. Season to taste with salt and pepper.
Spoon tuna mixture into the bottom bread shell and cover with the top. Wrap in plastic wrap, then in foil and top with something heavy to weigh it down (like a cast iron skillet, or a cutting board and a few heavy cookbooks). Let sit for at least 10 minutes.
Remove weight, foil and plastic wrap. Cut crosswise into 2 to 4 pieces to serve.
Notes
Make ahead: Pan Bagnat can be assembled up to 24 hours in advance, covered and refrigerated. No need to weigh down if making the day before.
Note on olive oil: If you can't find lemon-fused or infused olive oil, use regular EVOO and add more lemon zest to taste.
Note on canned tuna: I absolutely love Wild Planet Albacore Wild Tuna packed without oil. It's moist but not oily and has great tuna flavor, without being too fishy tasting. Plus, Wild Planet tuna are line caught, which is better for the environment and means the fish are smaller with less mercury. If you can't find Wild Planet tuna, I would recommend using a good quality wild tuna packed in oil, not water.
Author:

Category:

sandwiches, make ahead, picnics, potlucks
Keywords: tuna, sandwich, make ahead