When Robert and I visited the Amalfi coast in Italy, our guide Giocondo Cavellieri introduced us to two very special restaurants. The first one is actually a pastry shop:
Owned and managed by the  Pansa brothers (one is there in the morning, the other in the afternoon), this darling place is full of history, having been founded by the brother's grandfather.
(Photo above courtesy of the Pansa website)
Here I am with one of the adorable brothers:
The pastries are amazing – cakes, cookies, chocolates, coffees, everything was delicious.
The Pansas also introduced us to the aperitif that is all the rage in Italy right now – the Aperol Spritz.
According to my friend Dede Graves, it consists of 3 parts prosecco, 2 parts Aperol liqueur, and 1 part soda water, on ice with a slice of orange. Very pretty and yummy too! I can see why it's so popular.
Right on the main square next to the big church, definitely stop in to Pansa for a pastry – or an Aperol Spritz – while in Amalfi!
Ristorante Ippocampo in Conca dei Marini
Later that same day, Giocondo took us by boat to the small town (referred to as a "village" by the Italians) of Conca dei Marini for lunch at Ristorante Ippocampo. In a small bay, right on the Mediterranean, we were treated to a fantastic, memorable lunch of fresh fish and seafood – that had been caught just hours before we ate it!
Like Pansa, this is a family run business. One brother is the manager, the other the fisherman! After disembarking on the dock, Giocondo – and the fisherman brother – took us into the kitchen to see and "approve" the squid, shrimp and fish we would eat for lunch.
We then sat down at a table just next to the dock and beach to enjoy our meal. The first course was focaccia bread with tomatoes (looked and tasted like a pizza to us!) and a seafood antipasti – squid, shrimp (both cooked and raw!), white anchovies, breaded and deep fried artichokes and carpaccio of fish.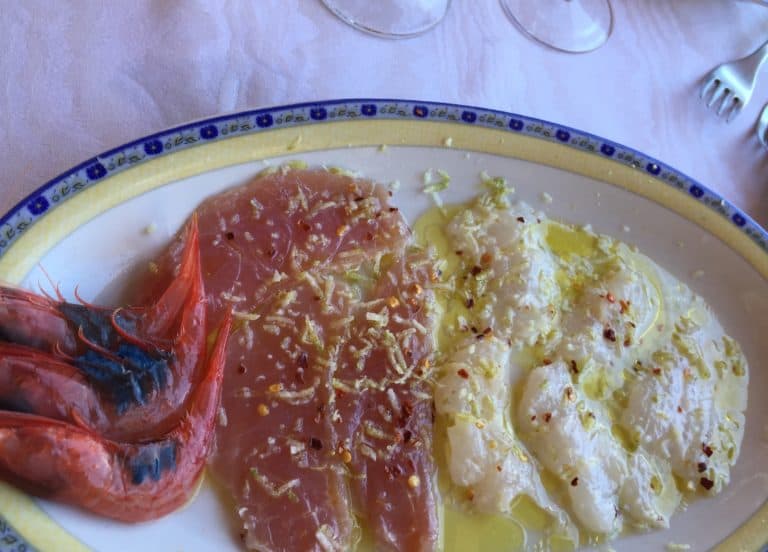 We also had a local white fish they filleted, brushed with olive oil, lightly breaded, wrapped in foil and grilled. Wow! there is no comparison to eating fish and seafood this fresh. Sooo good. I also loved the preparation of the breaded fish on the grill. I'm definitely going to try this at home!
Next we had fresh squid and a local fish, both grilled. Minimal seasoning, and it didn't need any more. Fabulous!
I love the way they cook the fish whole and then skin and debone it at the table. A fun presentation, and it's easier to eat too.
For dessert we had a very popular Amalfi cake, a sort of almond-lemon torte. I told Giocondo I need the recipe! He is going to send it on.
With the cake, the owner treated us to a glass of Herbe Cedro – which was green and tasted a bit like limoncello. Giocondo said he had never tasted it before! A locally made liqueur of citron and "local herbs". We loved it!
A very special and memorable lunch – one of our favorites on our trip!