Lemon Ginger Whiskey Cocktail is an elegant, flavorful drink to serve as the "featured cocktail" at your next gathering.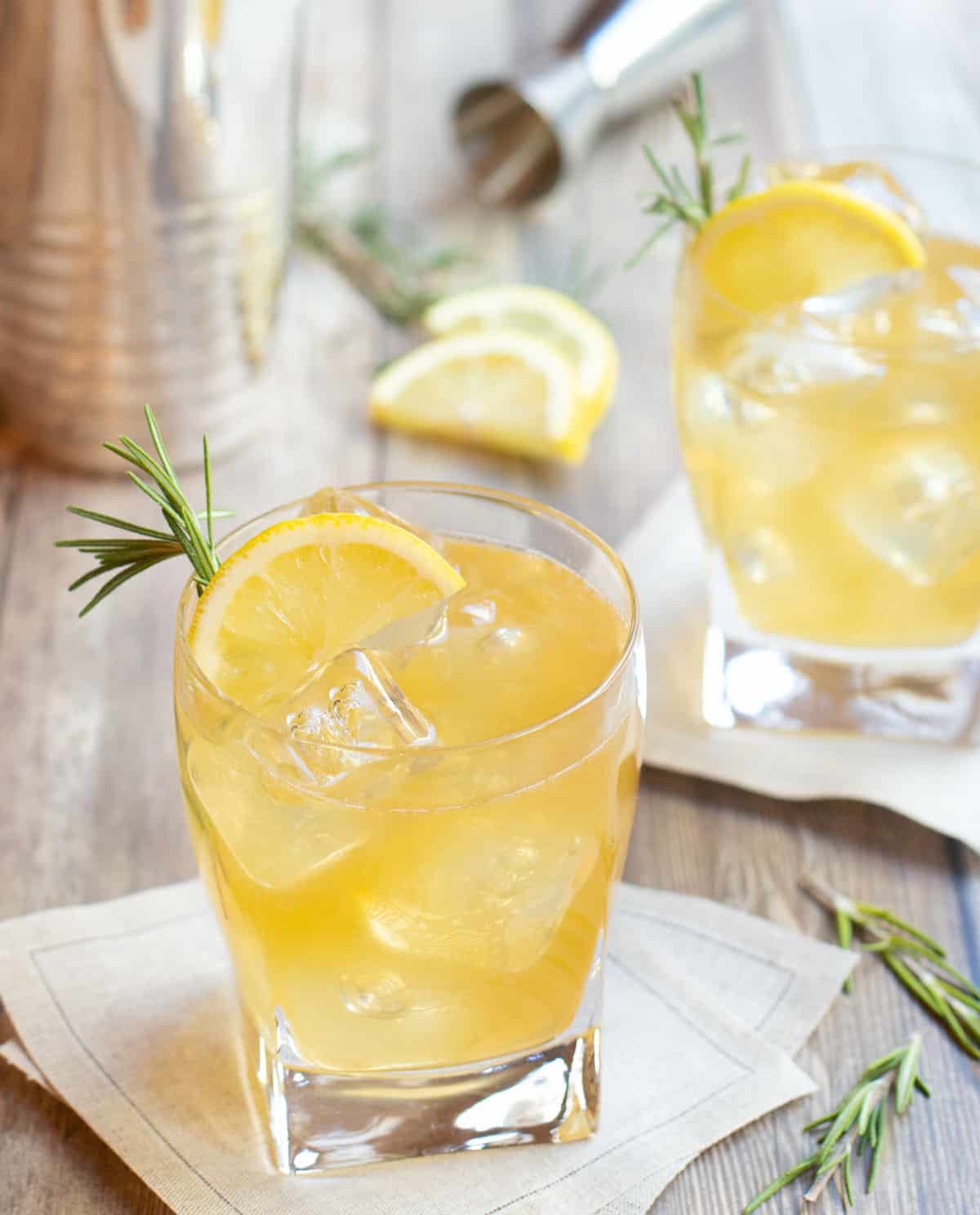 Bourbon Lemon Cocktail with Ginger
My mom loved bourbon – it was her alcohol of choice in the fall and winter (she drank vodka during the other seasons). I'm more of a vodka girl, but I do like bourbon when it's mixed with other flavors – like in our Genuine Derby Day Mint Juleps, and in my Lemon Ginger Bourbon Cocktail.
Last year, Robert and I had a lovely mini-vacation at The Canyon Suites hotel on the property of The Phoenician in Scottsdale, Arizona. One evening, the bartender served a bourbon-based drink that was infused with smoke! It was also flavored with lemon, ginger and rosemary. While I thought the smoky flavor was a bit overpowering, I liked all the others flavors. (After all, I like pretty much anything that has either lemon or ginger in it, let alone both.) So, I came home and created my own version of this delectable cocktail – minus the smoke. I think mom would have liked my version!
Specialty Bar Tools needed to make this Whiskey Cocktail
There are only two bar tools that you'll need to make this cocktail:
Cocktail shaker. A shaker is the most efficient way to thoroughly blend together all the ingredients. Plus, with the addition of ice, it also chills the drinks at the same time.
Cocktail strainer. Often the strainers built into cocktail shakers don't tend to work very well. They can easily get clogged, and can be slow. My favorite is the stainless steel strainer with a spring linked here.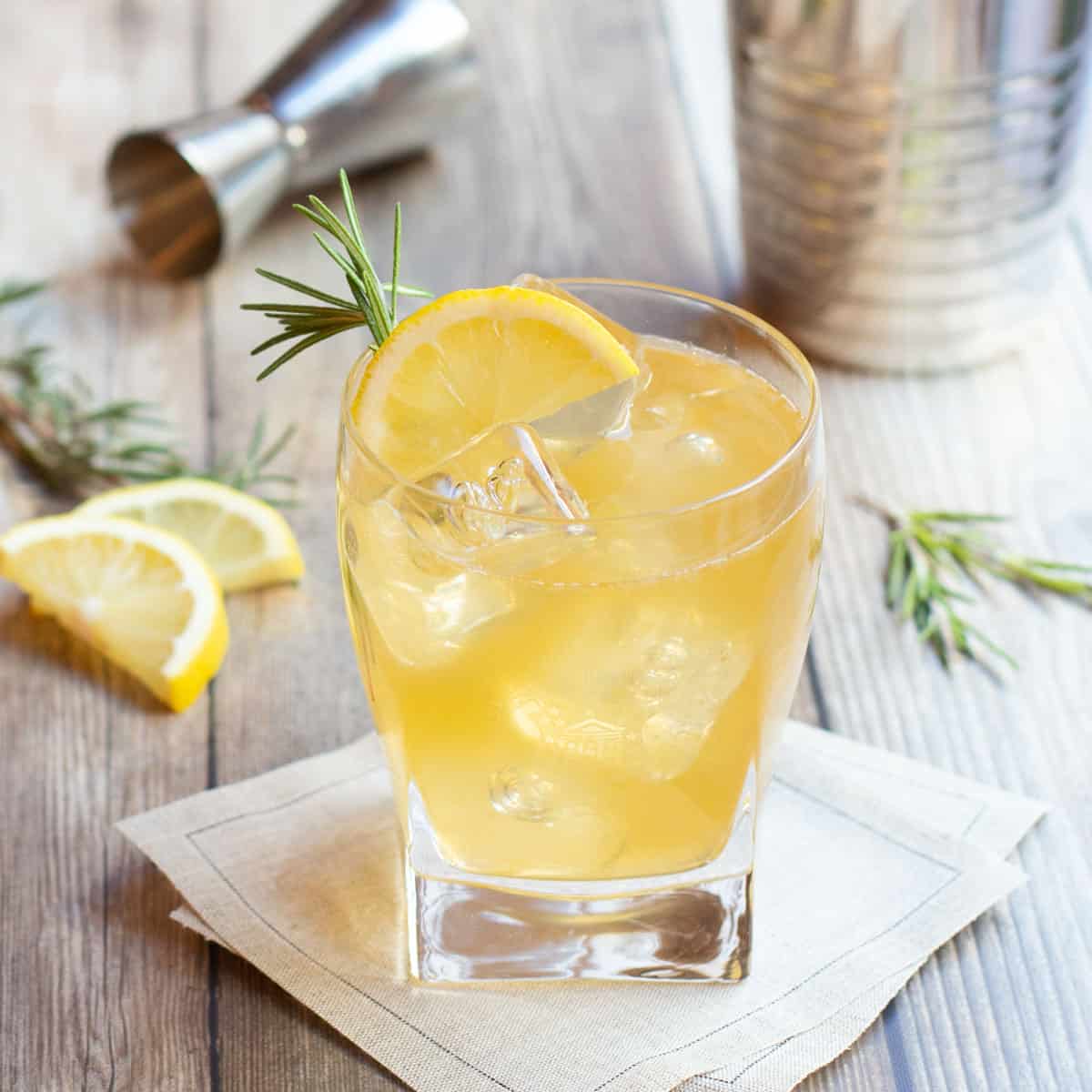 What is simple syrup?
Simple syrup is basically sweetened water. You can use granulated sugar, brown sugar or honey. Most simple syrups call for mixing together 1 part sugar to 1 part water, then stirring the mixture over medium-low heat until the sugar dissolves. In creating this recipe, I found that more honey/less water worked best – which is sometimes called "rich simple syrup."
Why is simple syrup important to this cocktail?
Simple syrup is an important ingredient in this recipe for two reasons:
1. It smoothly provides sweetness needed to offset the tartness of the lemon juice and lemon bitters.
2. Adding rosemary leaves to the syrup cooking process provides a way to disperse the rosemary flavor into the cocktail.
What is the difference between Whiskey and Bourbon? Can either be used in this recipe?
First, and most importantly, remember: all bourbon is whiskey, but not all whiskey is bourbon. The main difference between the two is in the fermentation process – the grain used and how it is stored/aged.

By definition, whiskey is a spirit distilled from fermented grain, including wheat, rye, barley, and corn—and then aged in wooden barrels. To legally call a whiskey a bourbon, it must be:
– produced in the United States. (Other whiskeys are produced all over the world; most common are Scottish and Irish.)
– made from 51 percent corn. (For other whiskeys, the mix of grains can vary.)
– distilled to a max of 160 proof and placed into the barrels at a max of 125 proof. (Other whiskeys can be distilled to a max of 190 proof.)
– stored in newly charred white oak barrels. (For other whiskeys, then need to be in oak barrels, but can be new or old, charred or not.)

In terms of flavor, bourbon tends to be slightly sweeter and smoother than other whiskeys. Any whiskey – bourbon or other varieties – works well in this cocktail.
How can I order this drink at a local eatery? Is this Bourbon and Ginger cocktail known by a common name?
This cocktail is my version of a drink created by the mixologist at a hotel in Arizona, so it's very unique! If you want to order something similar at a bar or restaurant, the closest classic bourbon cocktails might be a Gold Rush or Whiskey Sour. Ask the bartender to add in some ginger liqueur, and you'll be even closer – just missing the rosemary.
Serving Suggestions – Foods that Pair well with a Bourbon Lemon Cocktail
I have served this whiskey cocktail with many different appetizers. Here are some of my favorites:
Pin it now to save for later –
More Favorites from A Well-Seasoned Kitchen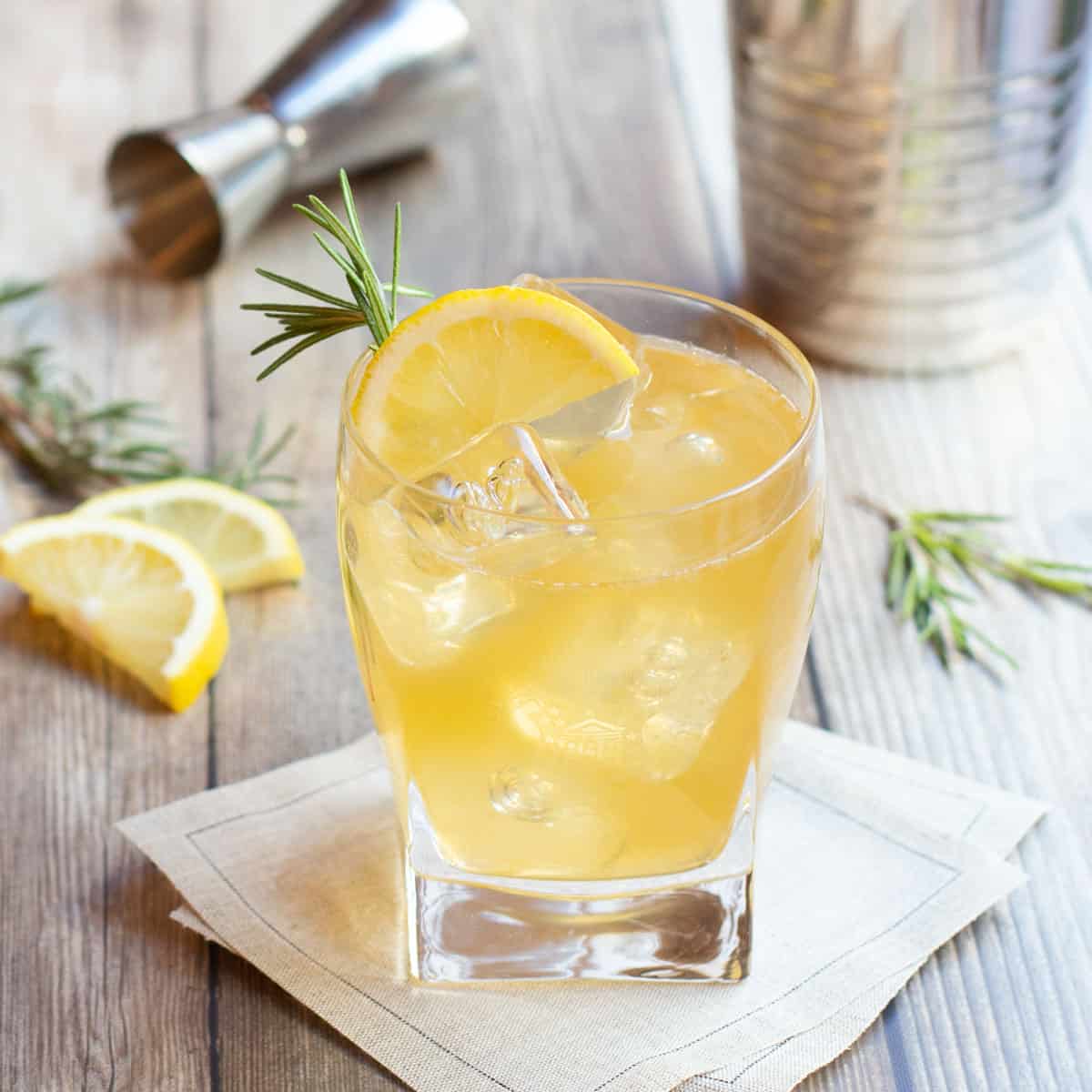 Whiskey Ginger and Lemon Cocktail
Author:

Prep Time:

5 mins

Cook Time:

5 mins

Total Time:

10 minutes

Yield:

2

servings

1

x

Category:

cocktails, easy entertaining

Method:

shaken

Diet:

Gluten Free
---
Description
Bourbon cocktail mixed with a rosemary-infused honey simple syrup, lemon juice, and ginger. YUM!
---
Rosemary-Infused Honey Simple Syrup (Makes around 1 1/8 cups)
3/4 cup

honey

6 tablespoons

water

1/4 cup

fresh rosemary leaves, plus more for garnish
Lemon Ginger Bourbon Cocktail
1/4 cup

Rosemary-Infused Simple Syrup

1/2 cup

(

4 ounces

) good quality bourbon

6 tablespoons

(

3 ounces

) ginger liqueur (I like Domaine de Canton brand)

3 tablespoons

fresh lemon juice

6

dashes lemon bitters (can also use orange)
Rosemary sprigs, for garnish
Lemon slices, for garnish
---
Instructions
Rosemary-Infused Simple Syrup
In a small saucepan, heat the honey, water and rosemary leaves over medium-low heat, stirring, just until the honey is dissolved. Remove from heat, cover and allow to steep (at room temperature) for several hours or overnight.
Lemon Ginger Bourbon Cocktail
Place 1/4 cup rosemary-infused simple syrup (with the rosemary) in a cocktail shaker that's around half full with ice. Place the remaining simple syrup in a sealed container and refrigerate for one month for later use. (Can also freeze for up to 3 months.)
Add bourbon, ginger liqueur, lemon juice and lemon bitters to the cocktail shaker. Shake until well mixed and chilled.
Strain into two cocktail glasses over ice. Garnish with a small rosemary sprig and a slice of lemon.
---