For years, we've been in pursuit of the perfect Mint Julep to accompany our Kentucky Derby Day festivities, which are a big deal in the Clayton household as my mom was raised in Louisville. We think this recipe is just right – not too much bourbon, not too sweet and just enough mint. Give it a try – you won't be disappointed!
Print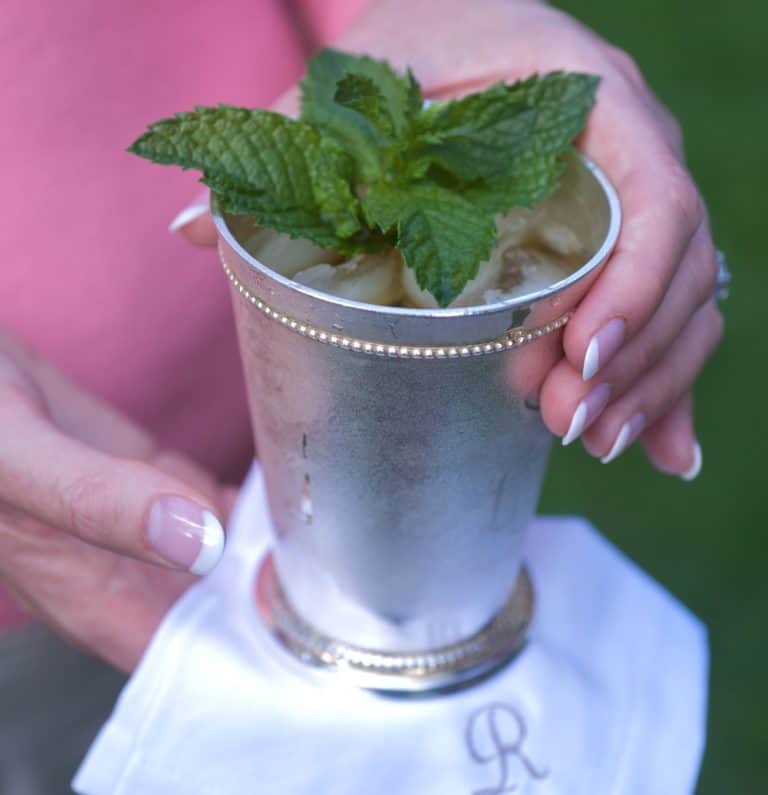 Genuine Derby Day Mint Juleps
2 cups

water

2 cups

sugar

1/3 cup

+ 1/4 cup packed fresh mint leaves, divided (plus sprigs for garnish)

1

bottle good bourbon (Mom preferred Jack Daniels)
Instructions
Make a simple syrup by bringing the water to a boil. Remove from heat and stir in sugar. Continue to stir until sugar dissolves and the water is no longer cloudy (doesn't take very long). Stir in 1/3 cup mint, crushing the mint leaves with the spoon. Cover and allow to steep for several hours or overnight (the longer the better!).
Place a few mint leaves in the bottom of each mint julep cup, and crush with a muddler (or back of a spoon). Fill each cup with lots of ice (to the top). Add 3 ounces (1/3 cup) of bourbon, 3 to 4 tablespoons of the mint simple syrup (or more to taste) and a sprig of fresh mint. Enjoy!
Notes
The mint simple syrup will keep in the refrigerator for several months. It's great for mojitos, too!