If you're looking for a tasty and festive appetizer to serve on Derby Day, look no further than these delectable Benedictine Cheese Canapés! My family's version of this classic cucumber and cream cheese spread will tantalize your taste buds with its creamy texture and hint of spice. Perfect for enjoying while sipping mint juleps, these two-bite canapés are sure to be a crowd-pleaser. Plus, they can be prepared ahead – and served either casually as a dip, or more elegantly as a two-bite appetizer.
Derby Appetizers
My mom was raised in Louisville, Kentucky, and as a result, Derby Day was a major holiday for our family growing up – and still is in my home today. My husband Robert and I partake in all the Kentucky dishes traditionally served on this special day, including Southern Corn Pudding, Country Ham, Chocolate Pecan (aka Derby) Pie, and, of course, our family's special recipe for Mint Juleps (all these recipes are in our cookbook).
History of Benedictine Cheese
Benedictine Cheese was originally created as a sandwich spread by Jennie Carter Benedict in the early 1900s. Ms. Benedict attended the Boston Cooking School at the same time as Fanny Farmer, then went on to be a caterer, restaurant owner and cookbook author in Louisville, Kentucky. She created the Benedictine "Sandwich" to serve at her restaurant.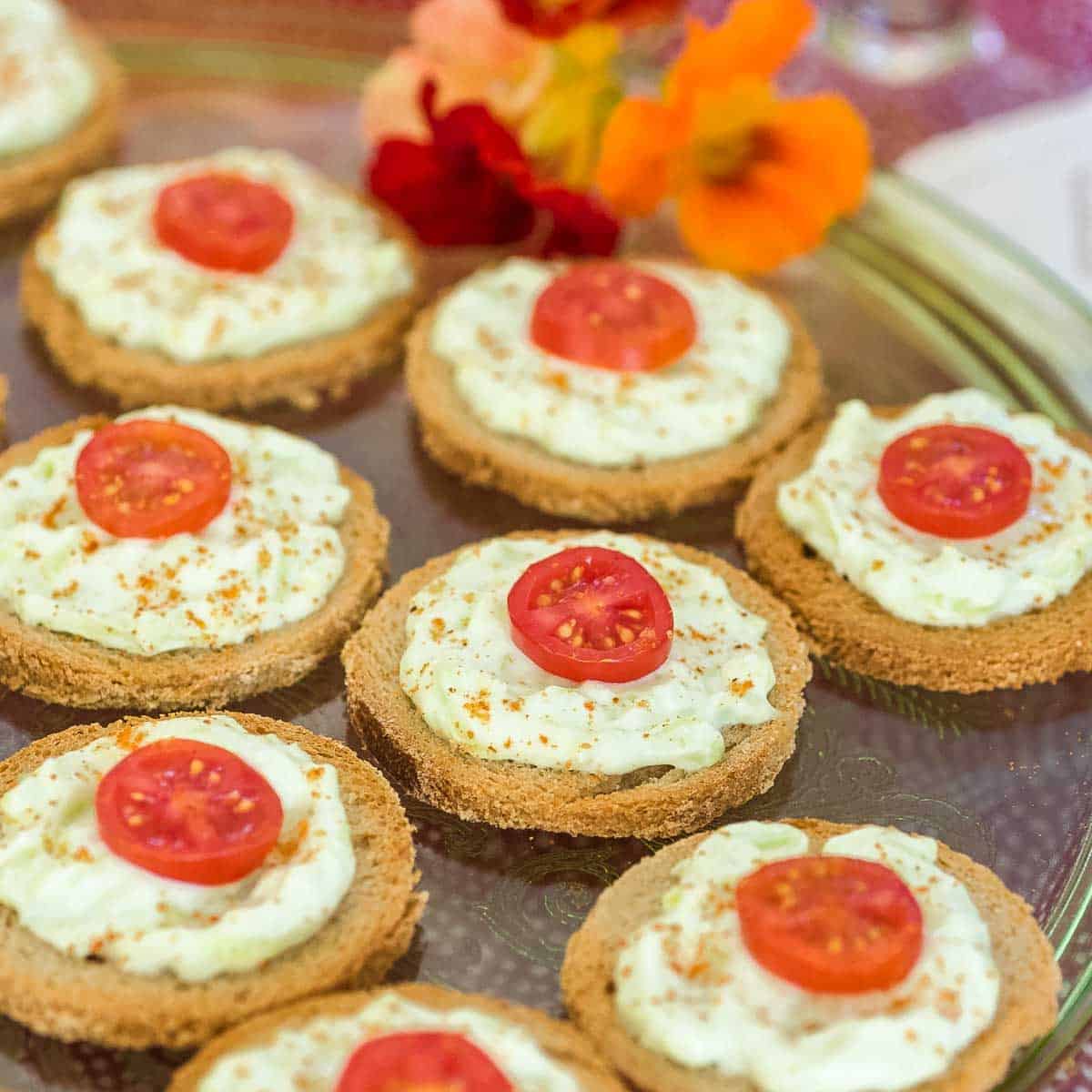 How to make Benedictine Cheese Canapés
This recipe for Benedictine Cheese Canapés is a favorite in our house. Mom insisted on using food coloring for the pale green color, for an authentic presentation. I add the tomato slices which pair nicely with the cheese flavor and add even more color. In addition, I toss in a pinch of cayenne pepper, for a bit of spice.
A time-saving way to serve Benedictine Cheese Spread
While I enjoy serving Benedictine Cheese as a two-bite appetizer, sometimes I just don't have time to assemble the canapés. Here's a time saving way to serve them: Place the cheese spread in one bowl, the tomato slices in another bowl and place both in the middle of a serving platter, surrounded by the toast rounds.
What is the difference between canapés and hors d'oeuvres?
First let's start with hors d'oeuvres. Hors d'oeuvres are small savory servings of food that can be presented in a variety of ways – as a dip or spread with crackers on the side, or a little sandwich.

Canapés are a type of hors d'oeuvres that's small (one or two bite) and has a base of a slice of bread, pastry or a cracker. Canapés are typically served before a meal, usually with cocktails. Hors d'oeuvres can be served either with cocktails or at the dining table as a first course.
Why are they called canapés?
The name "canapé" is French for sofa! There are various theories why these little morsels of food came to be called canapés (or sofas). One theory is that it referred to where you eat them – sitting on a sofa in the living room while enjoying a cocktail. Another theory is that it's based on their structure – the toppings "sit" on top of the base, which is like a food "sofa."
Are canapés the same as tea sandwiches?
Canapés only have bread as a base, while tea sandwiches structurally are like traditional sandwiches and have bread on the top and bottom.
Can this canapé appetizer be made in advance?
Yes, you can make both the toasted bread rounds and the cheese in advance, then assemble shortly before serving:
– Prepare toast rounds up to 24 hours ahead of time. Place the cooled toast in a zip top baggie and store at room temperature. 
– Prepare cheese spread up to 24 hours ahead. Cover and store in the refrigerator until ready to use.
Other Derby Recipes
Here are more of my favorite recipes to serve on Derby day:
Print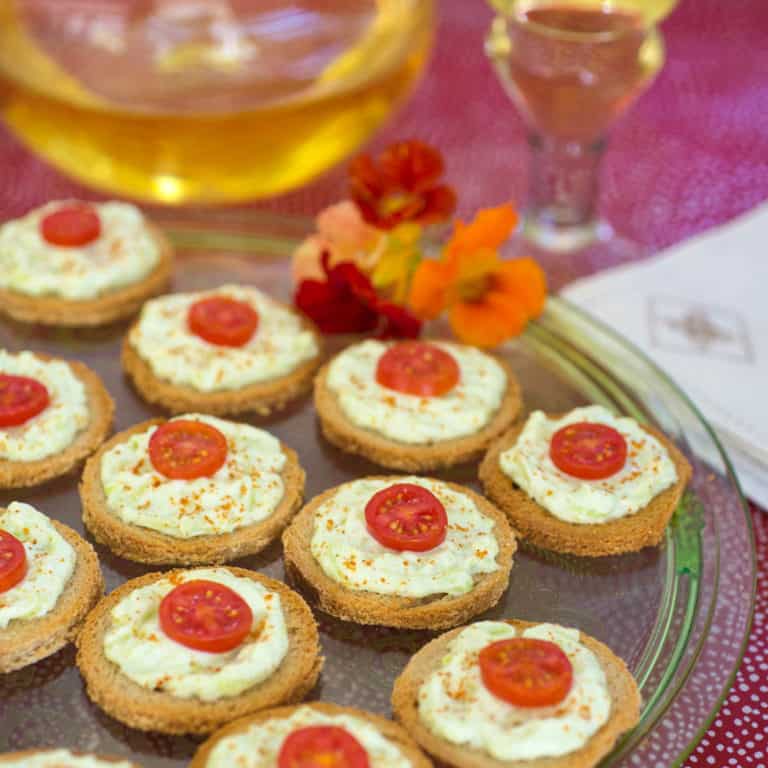 Benedictine Cheese Canapes
A 2-bite version of a traditional family recipe, these Benedictine Cheese Canapés are quick and easy to prepare, and vibrant on the plate, too!
Prep Time:

25 mins

Refrigeration Time:

2 hours

Cook Time:

7 mins

Total Time:

2 hours 32 minutes

Yield:

Around

55

(1 1/2″) canapés

1

x
(See gluten-free adaptations in the Notes section at the bottom of the recipe.)
1

loaf thinly sliced white bread (such as Pepperidge Farm) – see Note

1

to

2

large cucumbers – see Note

1 tablespoon

grated onion

8 ounces

cream cheese, at room temperature

1 tablespoon

mayonnaise

1/4 teaspoon

salt (or more to taste)
Cayenne pepper
Dash green food coloring
Dash sugar (only if needed)

1 pint

cherry tomatoes
Instructions
Preheat oven to 350 degrees.
Cut rounds out of each slice of bread (not using crusts) to desired size (we like 1 1/2 to 2" rounds). Place on a cookie sheet and bake for around 7 minutes until lightly toasted.
Peel, seed and grate the cucumber. Place on a clean dish towel (or paper towel) together with onion. Fold in sides and roll up. Holding over the sink, squeeze/ring out moisture from the cucumber and onion.
Combine cream cheese (cut into cubes),onion, cucumber, mayonnaise, salt and dash cayenne pepper (or more to taste) in a food processor and mix until well blended. Taste and adjust salt and cayenne pepper as needed. Stir in food coloring.
Place in a bowl, cover and refrigerate for several hours to let flavors blend.
Taste again, adjust salt and cayenne as needed. If cucumbers are bitter (some can be, especially if they are young), add a dash of sugar.
Top each toast round with some of the spread. Garnish with a slice of cherry tomato and lightly sprinkle with cayenne pepper.
Notes
Gluten free: use gluten-free bread.
Note on bread: if you can't find thinly sliced bread, buy regular white bread and roll thin, using a rolling pin.
Note on cucumbers: Use 1 cucumber unless it has a lot of seeds, then use 2.
Time-saving variation: Place the cheese mixture in a bowl, the tomato slices in another bowl and place both in the middle of a serving platter, surrounded by the toast rounds.
Make ahead: toast rounds and cheese can be made earlier in the day. Place the cooled toast rounds in a zip top baggie and store at room temperature; cover the cheese and store it in the refrigerator until ready to use.
Author:

Category:

appetizers, easy entertaining

Method:

toast, no bake

Cuisine:

Southern