Cool and refreshing, a Cosmopolitan Martini is the perfect treat on a warm summer day. With their pale pink color, Cosmos (as they are called for short) just look like summer in a glass! Developed with input from experienced bartenders around the world, my Cosmopolitan recipe is time tested to be perfect, every time.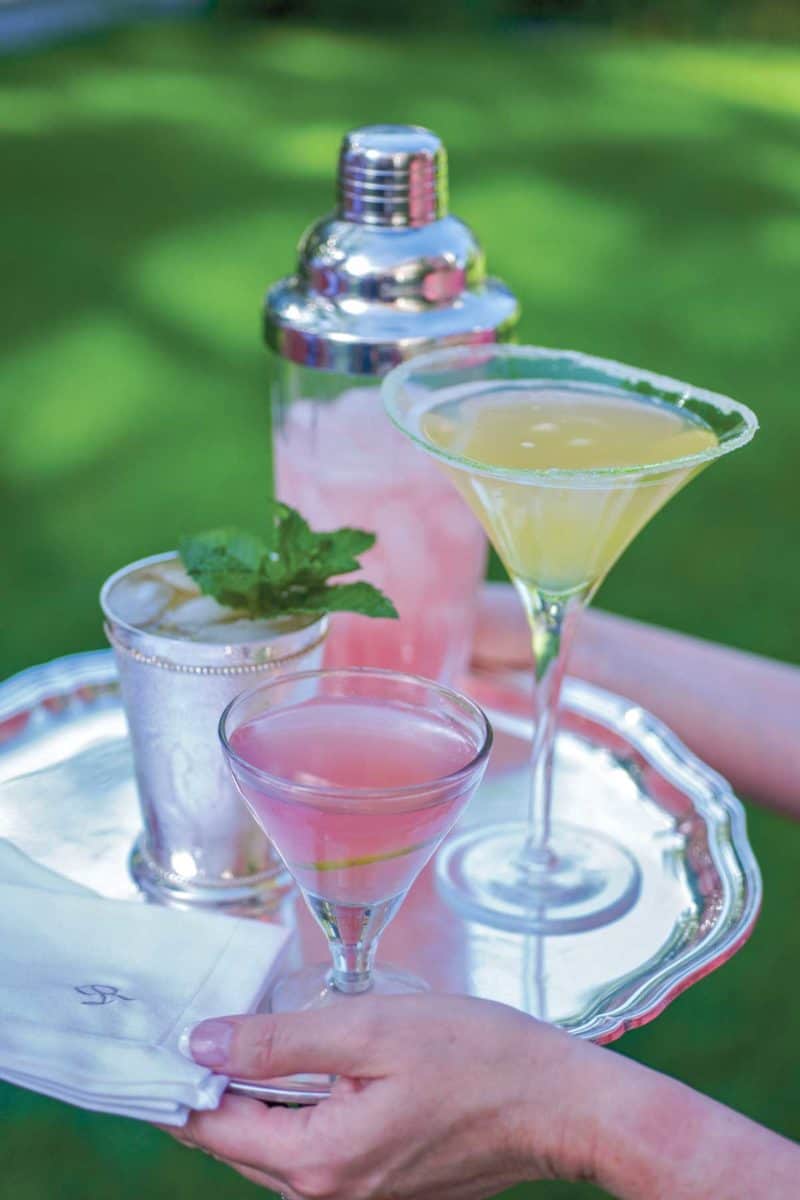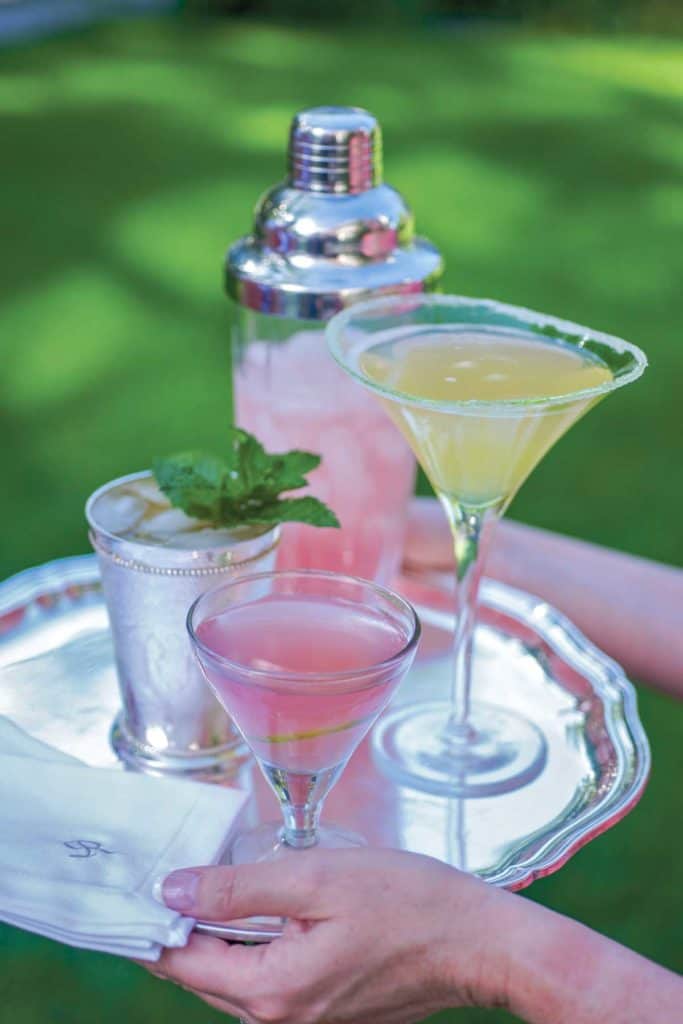 I first started drinking Cosmopolitan Martinis back in the 1990s, when they became famous thanks to the HBO TV series Sex in the City. They are so pretty – a pale pink cloud inside a sophisticated stemmed martini glass. And, with a garnish of green lime, I felt like I was back on Martha's Vineyard, where I spent a summer during college. (All those bright pink and green summer dresses!) They are the perfect summer drink – cool, clean, fresh tasting, with a perfect balance of tart and fruity overtones.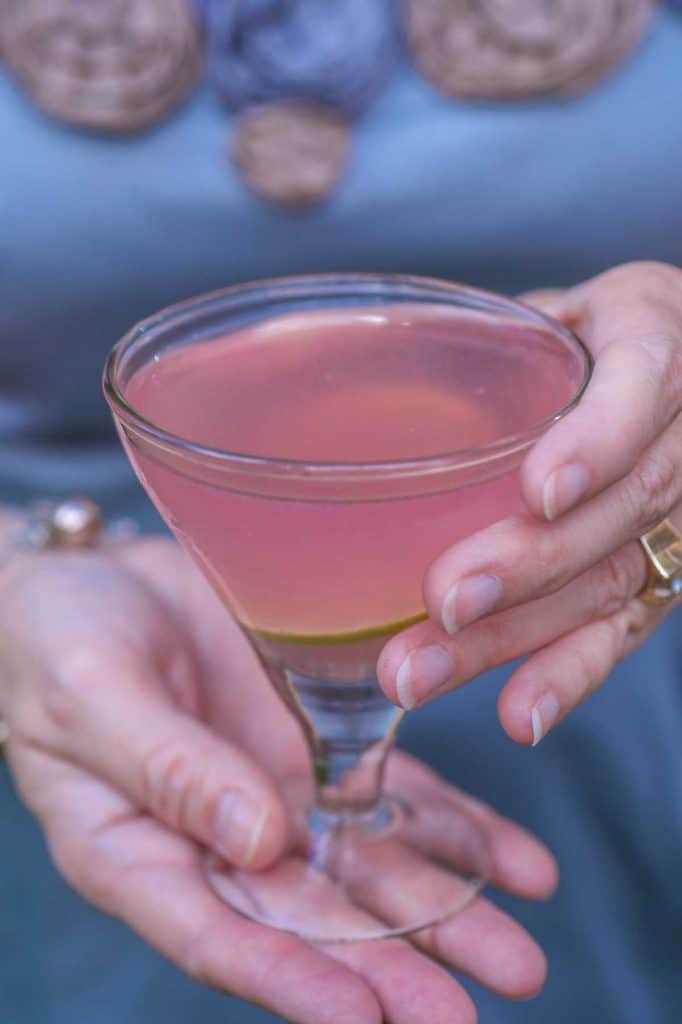 How I found the perfect Cosmopolitan Martini recipe
When I first started drinking Cosmos, as they are called for short, I discovered that occasionally they didn't look – or taste – quite right. Sometimes, they were a darker red, and sweeter. Other times a bit sharp and bite-y. So, I started talking to bartenders about their classic Cosmopolitan recipes. As I was traveling a lot on business at the time (1990s), I was able to obtain input from professional mixologists around the country – and even in Canada, England and France.
I took all those various recipes home and started experimenting. Once I hit on a combination I liked, I tried it out on a few friends, then tweaked the recipe based on their input. Why did it take so much effort for such a simple recipe? Well, because just a slight change in an ingredient – like using Triple Sec instead of Cointreau – has a big impact on the taste. While both liqueurs are orange-flavored, in my opinion Cointreau is smoother and less dry. (As you may recall, my husband uses Cointreau in his Vodka Martini with a Twist.)
What's in a perfect Cosmopolitan Martini?

My recipe calls for only 4 ingredients – good quality vodka (I like Tito's), Cointreau liqueur, sweetened cranberry juice, and fresh squeezed lime juice. While some bartenders follow the original Cosmopolitan recipe created by Toby Cecchini at The Odeon in NYC and use Absolut Citron, I prefer the slightly less citrusy flavor of my version, that doesn't use a flavored vodka.

Also, fresh squeezed lime juice is an absolute must – no substitutions! It adds just the right amount of sharpness to balance the sweet cranberry and Cointreau.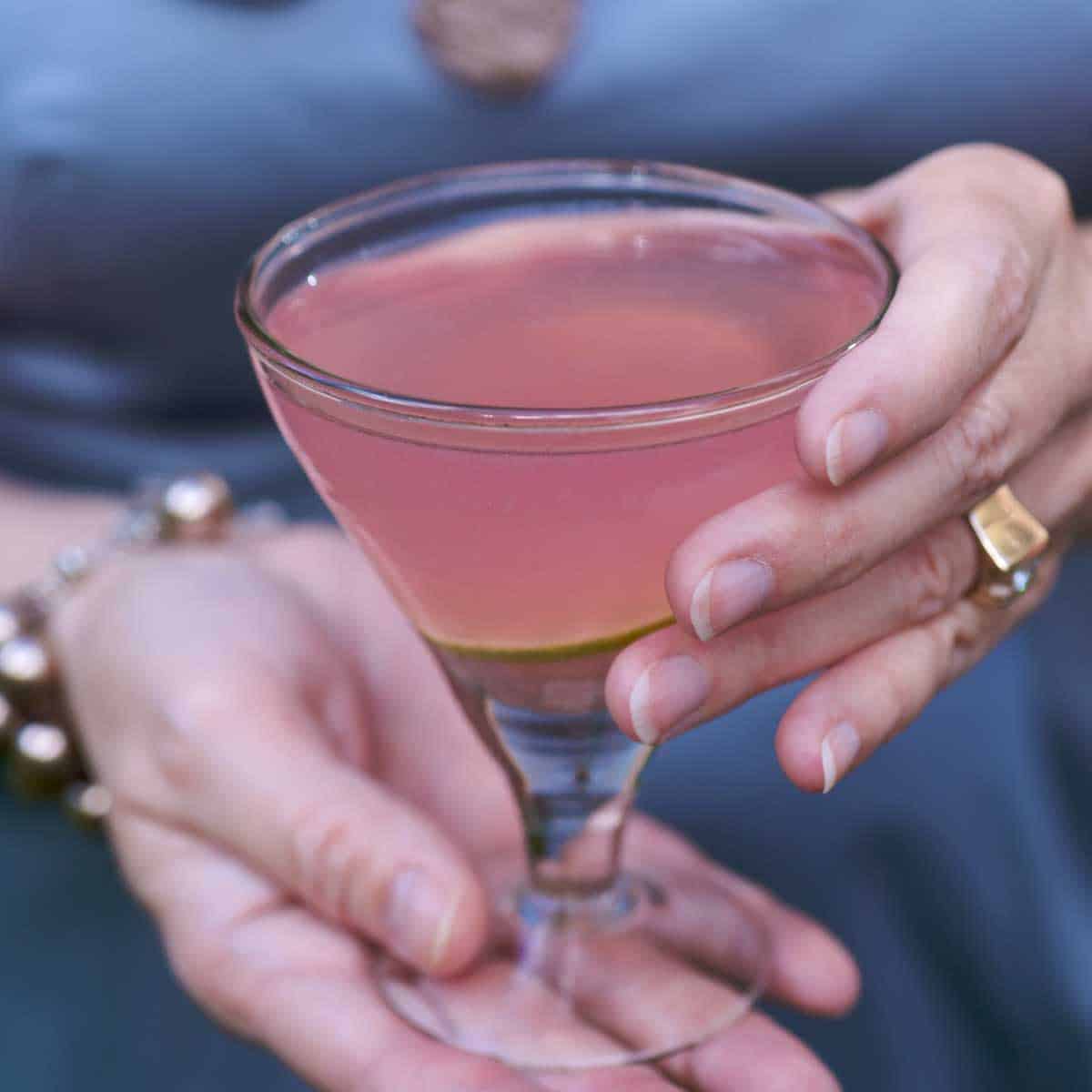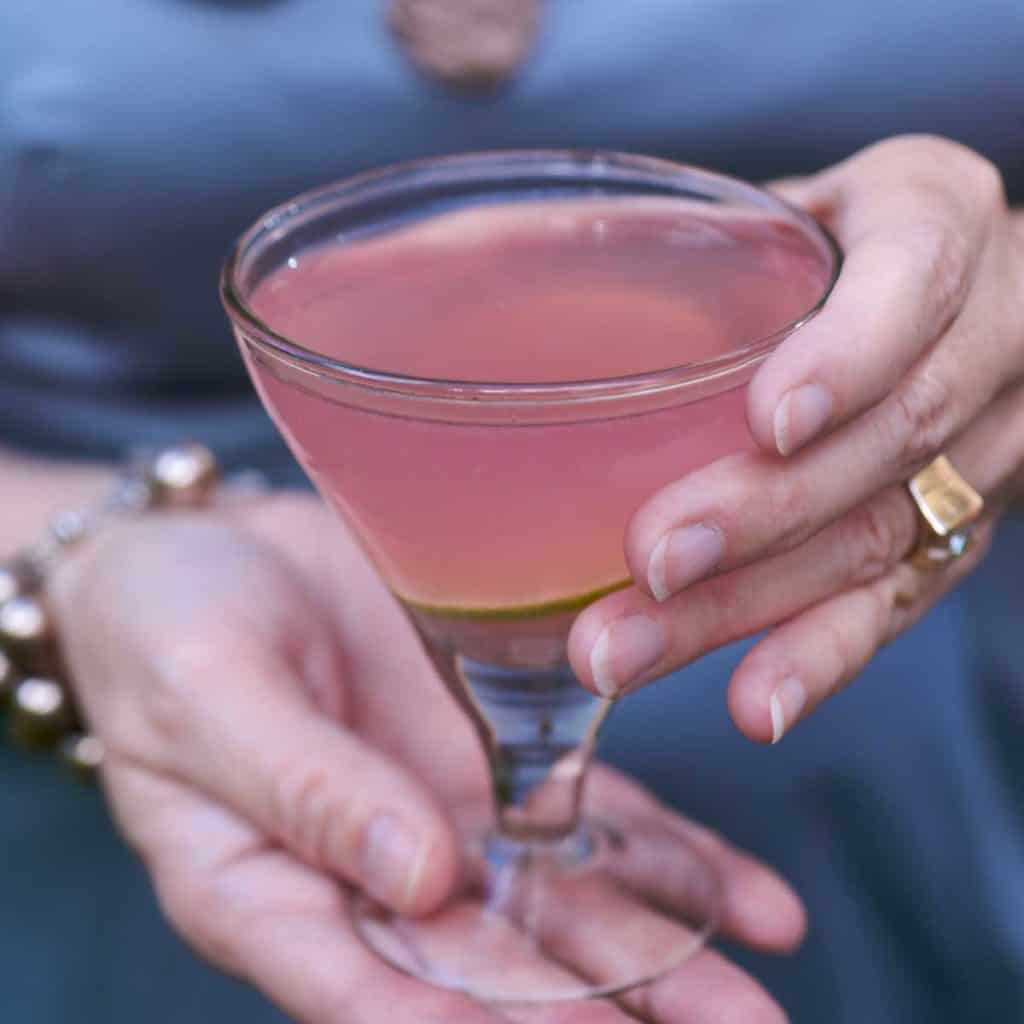 Tips for making a perfect Cosmopolitan
These tips come from my husband, who is known far and wide for his wonderful martinis!
Chill your martini glasses.

You can chill your glasses either by putting them in the freezer or filling them with ice water to quick-chill for 2 to 3 minutes just before using.

Put all the ingredients and a handful of ice cubes in your shaker and shake vigorously for around 10 to 15 seconds.

You want the mixture not only to be very cold, but also to form ice crystals that will then float on top of the martini.

Use a separate cocktail strainer to pour the shaken mixture into your chilled martini glasses.

Often the strainers built into shakers don't tend to work very well – and don't let the ice crystals flow through to the glass.
Pin this recipe now to save for later!
Other cocktail recipes you might like: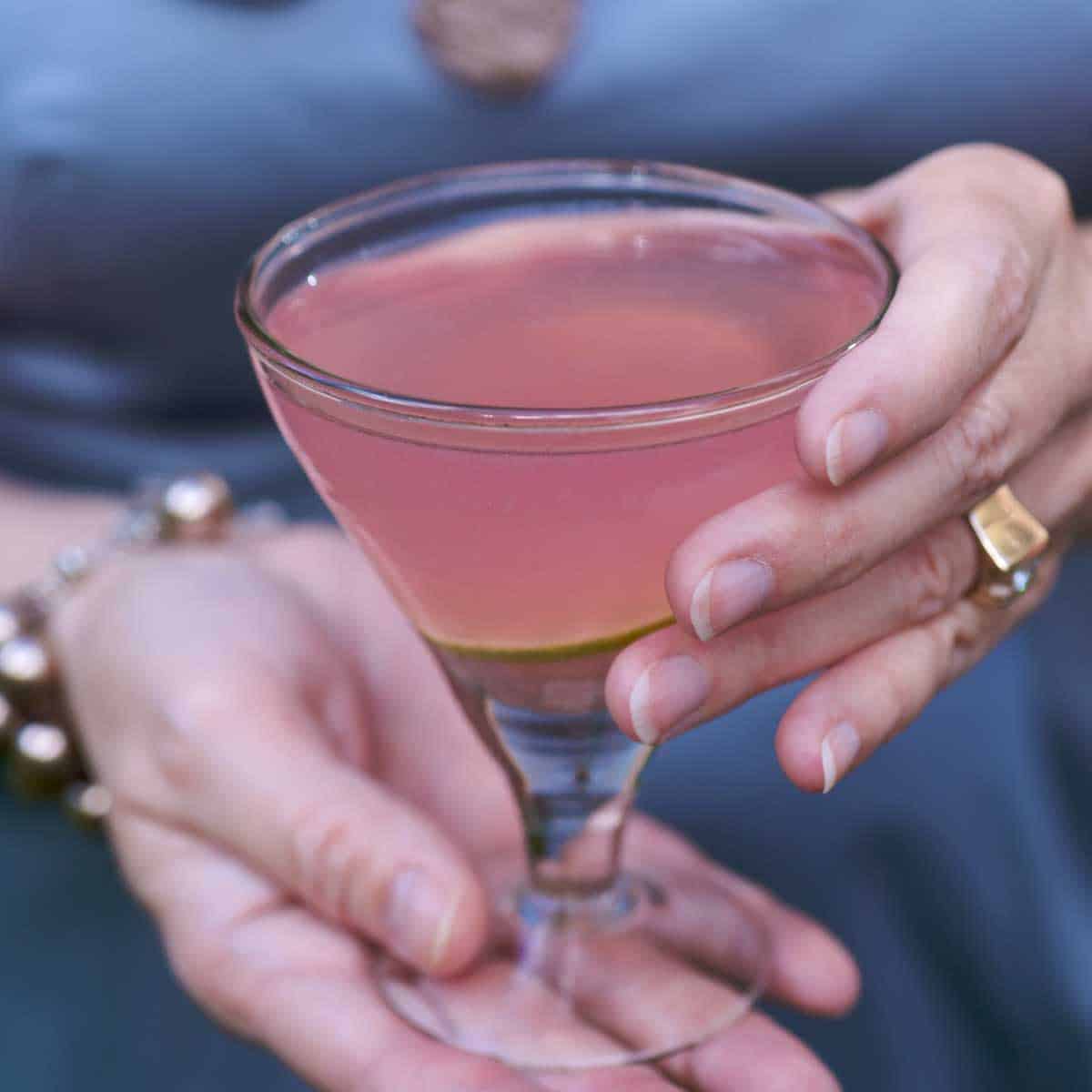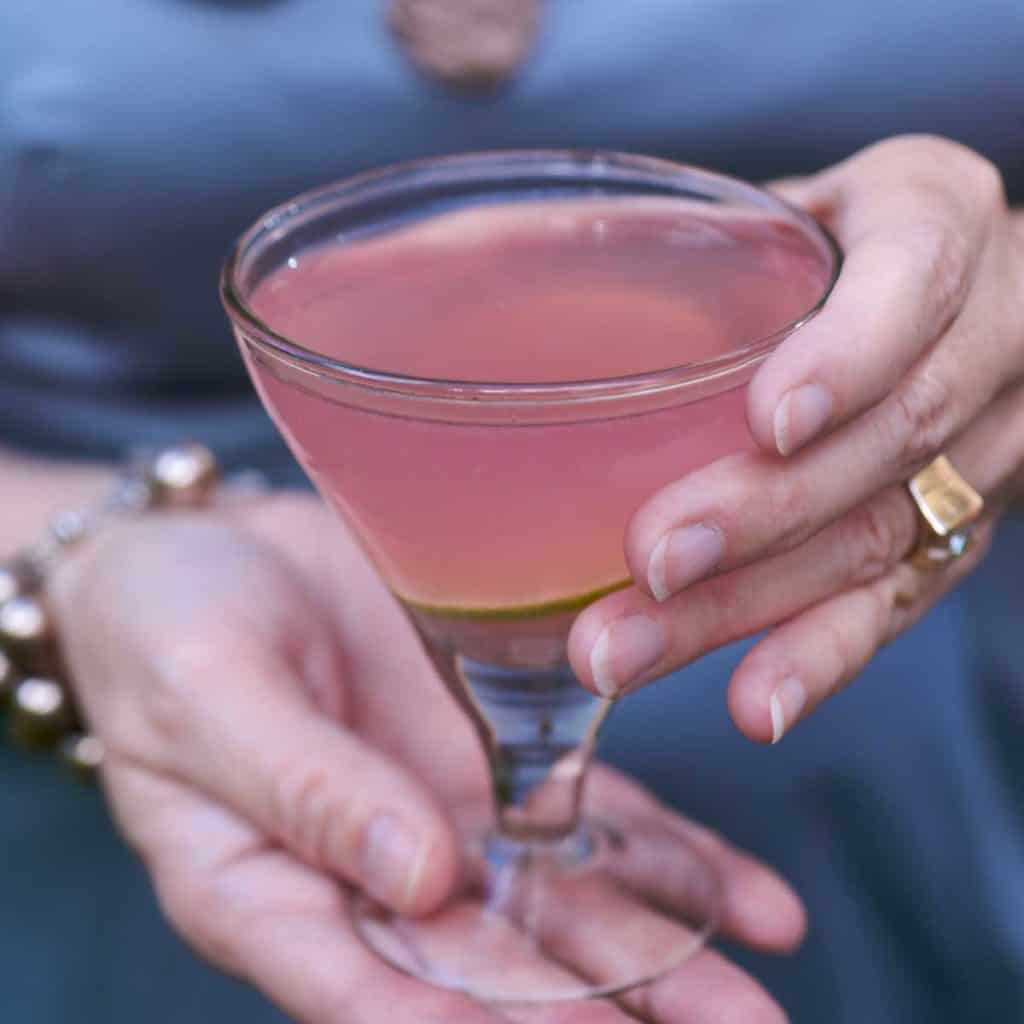 Cosmopolitan Martini
Author:

Prep Time:

5 mins

Total Time:

5 mins

Yield:

per serving

Category:

cocktails, drinks

Diet:

Gluten Free
---
Description
A time tested recipe for Cosmopolitan Martinis, developed with input from experienced bartenders. Cool, clean and fresh tasting!
---
3 1/2 tablespoons

(

1 3/4 ounces

) really good vodka

2 tablespoons

(

1 ounce

) Cointreau

2 tablespoons

(

1 ounce

) sweetened cranberry juice (like Ocean Spray)

1 tablespoon

(

1/2 ounce

) freshly squeezed lime juice (no substitutes!)
slice or wedge of fresh lime, for garnish
---
Instructions
Chill martini glasses either by putting them in the freezer, or filling them with ice water to quick-chill for 2 to 3 minutes just before using. Drain and dry.
Fill a martini shaker with ice. Add all ingredients. Shake well.
Pour through a cocktail strainer into a chilled martini glass.
Garnish with a slice or wedge of fresh lime.
---
Keywords: cosmopolitan, martini, cocktail