Scrumptious Shrimp Curry Bites are the perfect finger food appetizer to serve at your next gathering. These little bite-size wonders are easy to prepare ahead, elegant, colorful on the plate, and bursting with flavor! If that isn't enough, they're flexible, too, and can also be served more casually as a dip with crackers or celery, if you prefer.
Table of Contents
Shrimp appetizer ideas
Shrimp with cocktail sauce is one of the most popular dishes to serve in the U.S. While I do offer it at some of my gatherings, I'm always looking for – and creating – new and different shrimp appetizer recipes. In fact, I've been working on this curry-flavored shrimp starter literally for years – and last month finally got it right!
What's in this bite-sized Curry Shrimp Appetizer Recipe?
These little bites of shrimp deliciousness are basically a savory shrimp dip served in mini phyllo cups, resulting in an easy to serve, make ahead shrimp appetizer. They are full of varying flavors and textures that blend together perfectly.
Sweet, delicate, slightly briny shrimp are nestled in a luscious base of cream cheese, mayo, butter, Dijon mustard and Worcestershire sauce. It's all spiked with green onion, garlic powder, hot sauce and, of course, bold and earthy curry powder. And, lemon juice is added for brightness.To finish, it's presented in crunchy, light, mini phyllo cups – the perfect vehicle for this divine hand held, bite-size appetizer.
How to select and purchase shrimp
Here are my tips on selecting shrimp:
Look for responsibly caught wild shrimp. They have the best taste and a firmer texture. If wild aren't available, look for sustainably farmed shrimp.
Buy frozen shrimp, unless you live near an area where you can purchase locally caught fresh shrimp. See recommendations below for thawing.
Select shrimp with heads off, shell on. The heads can negatively affect the flavor, and shells protect the shrimp in the freezing and transit process.
Quick Tip
Frozen shrimp weighs more than thawed. In my experience, one pound (16 ounces) frozen shrimp = 13.7 thawed. So keep that in mind when purchasing!
How to cook the shrimp for these Shrimp Bites
I like to boil shrimp for this recipe. Here's the easy steps:
Bring water to a boil.
Place 2 quarts water in a stock pot and bring to a boil over high heat.
Add lemon juice, salt and pepper.
Add juice from 1/2 lemon and a few shakes of salt and pepper.
Add shrimp.
Add thawed shrimp and cook for 2 to 3 minutes, just until they turn pink.
Remove and place in ice water.
Immediately place cooked shrimp in a large bowl of ice water to stop the cooking.
Cool and dry.
Once shrimp are cooled (just takes a few minutes), remove from ice water bath and dry on paper towel.
Shell and devein.
Remove shrimp shells and devein (if needed – some shell-on shrimp are already deveined).
Can frozen shrimp be used in this recipe? What is the best way to thaw frozen shrimp?
Yes, you can use frozen shrimp for this recipe – as noted above, that's actually preferable. Thaw under running cold water (best and fastest); or, place in a bowl of cold water until thawed. Place on paper towel to dry before using. Just make sure to cook it before assembling!
Do I serve these shrimp appetizers hot or cold?
I like to serve these Shrimp Curry Bites cold or at room temperature.
Can I make these cold shrimp appetizers ahead?
Yes, definitely! You can make the shrimp mixture up to 2 days ahead, cover it and store it in the refrigerator. Spoon into phyllo cups and garnish shortly before serving. If you assemble them too far ahead, they can get soggy.
How long will these Shrimp Appetizers keep once assembled?
I don't recommend assembling these appetizers until shortly before serving, as the phyllo shells can become soggy. However, as mentioned above, you can prepare the filling up to 2 days ahead!
What else can I serve with these Make Ahead Shrimp Appetizers?
Here are a some ideas of other finger foods and cocktails that would go well with this shrimp appetizer recipe:
Pin this recipe now to save for later!
Print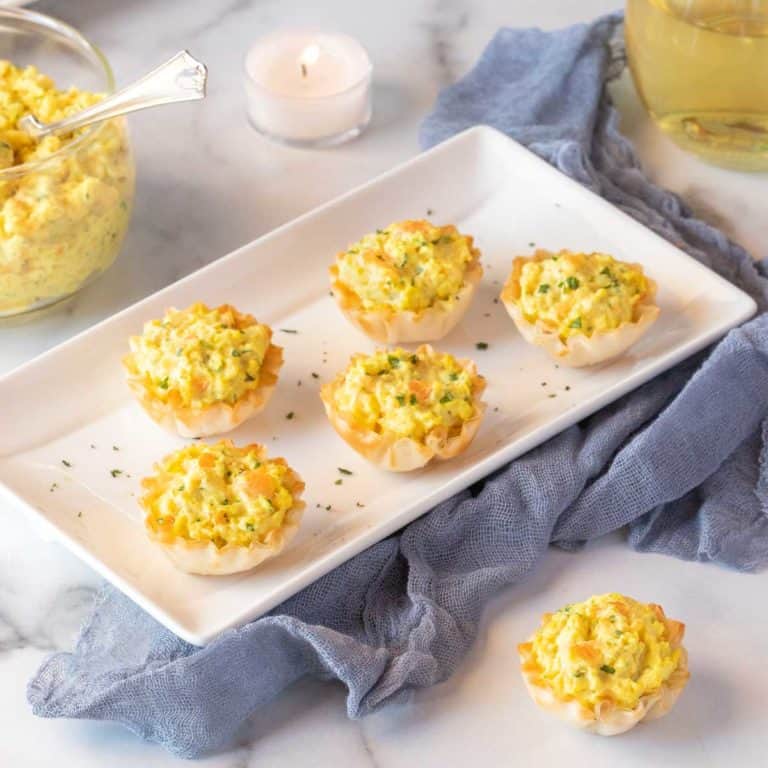 Curry Shrimp Bites
Scrumptious Shrimp Curry Bites are not your everyday shrimp appetizer – and they're the perfect new finger food to serve at your next gathering. These bite-size wonders are easy to prepare ahead, elegant, colorful on the plate, and bursting with flavor!
Prep Time:

20 mins

Refrigeration Time:

1 hour

Total Time:

1 hour 20 minutes

Yield:

Makes around

2 cups

filling, or

55

to

60

bites

1

x
6 ounces

cream cheese, softened and cut into

1

-inch cubes

2 tablespoons

mayonnaise

1 tablespoon

butter, softened

1 tablespoon

lemon juice, or to taste

1 1/2 teaspoons

curry powder, or to taste

1 teaspoon

Dijon mustard

1/2 teaspoon

Worcestershire sauce

1/2 teaspoon

garlic powder
couple dashes hot sauce

3

large green onions, chopped, plus more for garnish

1 tablespoon

chopped fresh cilantro (can also use flat leaf parsley), plus more for garnish

12 ounces

medium (41/50) cooked shrimp, shelled completely, deveined and patted dry with paper towel
Kosher salt, to taste
Fresh ground pepper, to taste

60

(4 boxes) prepared mini phyllo shells, cooked per package instructions and cooled
Instructions
In the bowl of a food processor, blend together cream cheese, mayonnaise and butter until smooth and well mixed.
Add lemon juice, curry powder, mustard, Worcestershire sauce, garlic powder and hot sauce; blend until incorporated.
Add green onions and cilantro and pulse to blend. Spoon mixture in a medium mixing bowl. Don't clean out the processor bowl!
Put shrimp in same food processor bowl and pulse a few times, just until chopped (don't purée). Add to cream cheese mixture and stir to blend well. Season to taste with salt and pepper.
Cover and refrigerate shrimp mixture for at least 1 hour and up to 2 days. Taste and adjust lemon juice, curry powder, salt and pepper as needed.
Spoon around 1 1/2 teaspoons shrimp mixture into each phyllo shell (I fill them just a smidge higher than the top of the shell). Garnish with additional chopped cilantro and/or green onion.
Notes
Make ahead: Shrimp mixture can be prepared up to 2 days ahead, covered and refrigerated. Spoon into phyllo cups and garnish shortly before serving. If you assemble them too far ahead, they can get soggy.
Variation without curry: Omit the curry powder, substitute 1 tablespoon chopped Italian (flat leaf) parsley or celery leaves for the cilantro. For color, garnish with finely chopped red pepper – or a drop of your favorite cocktail sauce.
Author:

Category:

appetizers, make ahead

Method:

No cook, blending

Cuisine:

seafood
Keywords: finger food, easy to prepare