Christmas is my favorite time of the year. It's all about celebrating family, friends, faith, and delicious food. For my family, Christmas morning starts with opening presents followed by gathering around the table for a festive, merry breakfast or brunch. Over the years, I've created and collected various recipes that are perfect for a Christmas day brunch – which I'm sharing with you here. I'm also sharing 2 favorite Christmas Brunch Menus, one served buffet style and one served plated. Savory or sweet, make ahead or quick and easy, you're sure to find the dishes that will make your family feel special on this important day.
15 Brunch Ideas for Christmas
Here are my favorite Christmas brunch recipes, divided into three sections – Savory Main dishes, Sweet Main Dishes, and Sides.
Christmas Brunch Recipe Ideas – Savory Main Dishes
Christmas Brunch Recipe Ideas – Sweet Main Dishes
Baked Cinnamon French Toast
Baked Cinnamon French Toast is full of divine flavors, varying textures and bright colors – and is super easy to prepare ahead of time. Purchased cinnamon raisin bread slices are steeped in a sweet-creamy mixture of egg, sugar, milk, cream and vanilla, then baked in a water bath. Easy, luscious, elegant and impressive!
Cinnamon Apple Waffles
What two flavors taste like fall more than cinnamon and apples? These Cinnamon Apple Waffles are full of sweet, spiced, well-balanced flavors. Grated fresh apples are mixed into a batter punctuated by cinnamon and brown sugar, with tangy yogurt keeping the sweetness in check. They're crispy on the outside, light and fluffy on the inside – and I share my secrets on how to make them that way!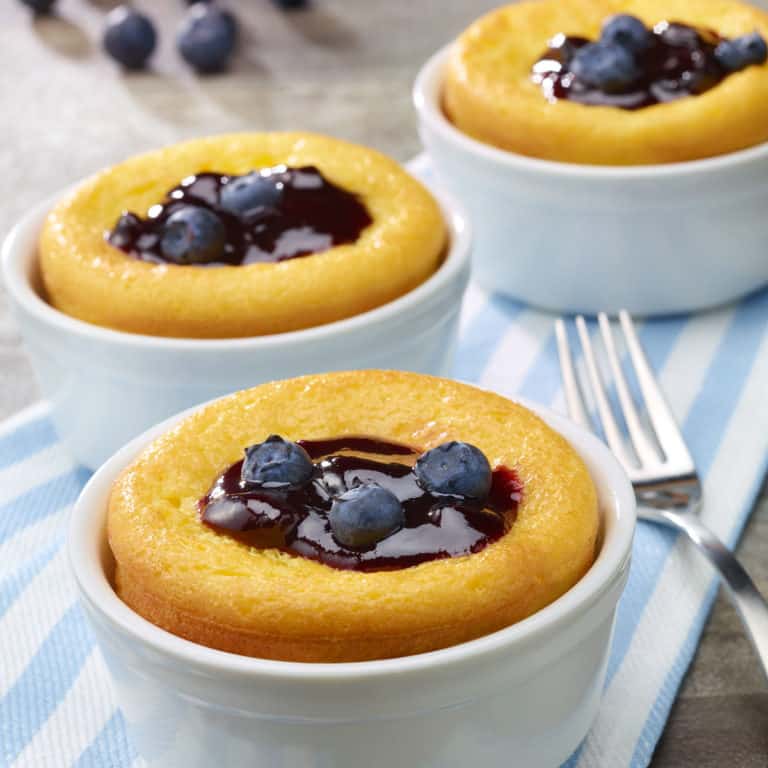 Cheese Blintz Soufflés with Blueberry Balsamic Sauce
Cheese Blintz Soufflés with Blueberry Balsamic Sauce are a quick and easy variation on traditional cheese blintzes. Egg batter is layered with a cream cheese-cottage cheese filling in individual souffle dishes or ramekins, baked, then topped with an intensely flavored Blueberry Balsamic Sauce. The result is a delicious and impressive breakfast, brunch or lunch dish!
Christmas Brunch Recipe Ideas – Sides (Sweet and Savory)
Christmas Brunch Menu Ideas
Here are two menus that are perfect for Christmas brunch – one served buffet stye, the other plated and served at the table. The second menu (as you can tell by its name) is based on my family's Christmas morning meal during my childhood. I've switched out the country ham for Spicy Bacon Twists, since country ham isn't widely available.
Note: you can always add cookies and for a light dessert to either of these menus.
Christmas Brunch Menu (Buffet)
Clayton Family Christmas Brunch Menu (Plated and Served)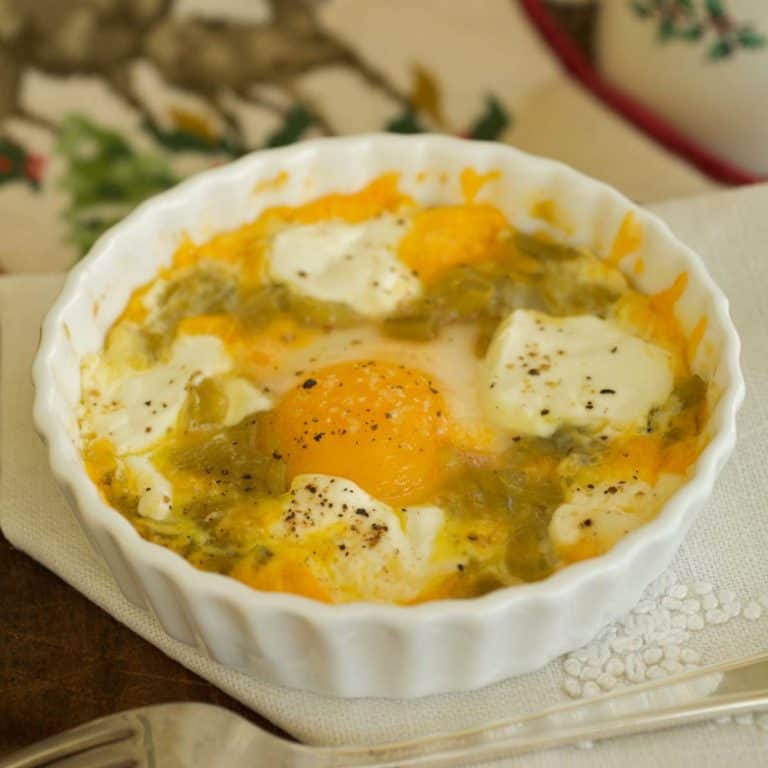 Christmas Morning Baked Eggs in Ramekins
Christmas Morning Eggs are quick and easy to prepare – and oh, so scrumptious! I can't recall a Christmas morning without them. Eggs are baked in a nest of Cheddar cheese, along with green chiles and sour cream. Can be prepared ahead of time, and also baked in one large dish!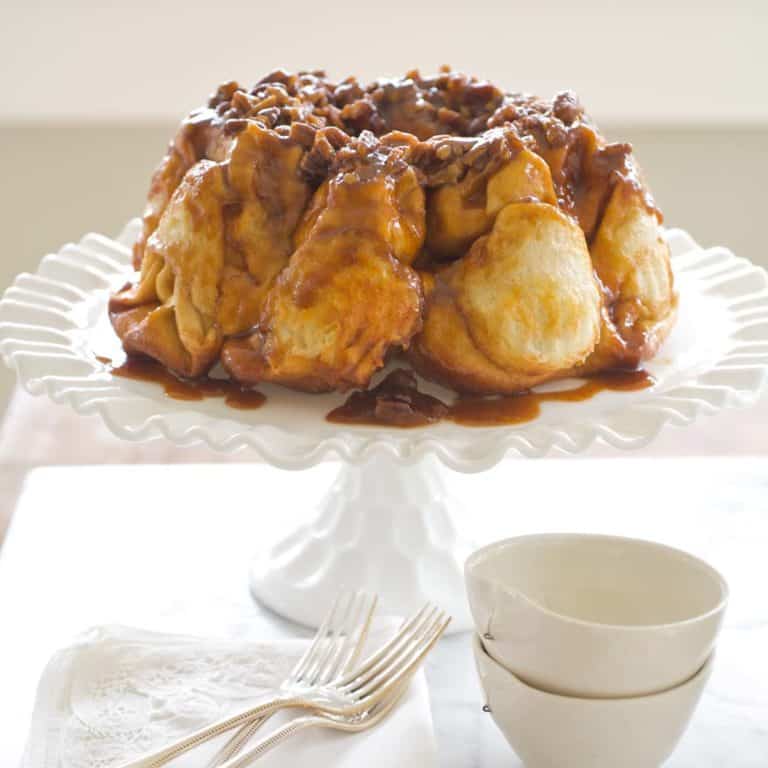 Overnight Caramel Rolls with Frozen Bread Dough (AKA Monkey Bread)
Overnight Bundt Caramel Rolls are easy to prepare, oo-ey, goo-ey, cinnamon-y bites of moist deliciousness! Not only do they take only about 5 minutes to prepare, you make them the night before, and pop them in the oven the next morning around 35-45 minutes before serving. Easy enough for everyday, elegant enough for special occasions and entertaining!
Sweet and Spicy Bacon Twists
These addictively delicious Spiced Bacon Twists are chewy, crunchy and both sweet and savory. Salty, smoky bacon is dredged in a sweet and spicy brown sugar mixture and then baked until crispy. The resulting bacon has the most wonderful caramel taste, with a bit of zing.
Fresh Grapefruit
Round out the meal with fresh grapefruit. Cut in half and place in small (cereal size) bowls with grapefruit spoons. If you don't have the spoons, then cut around the sections prior to serving.
Christmas Day Brunch FAQs
What makes a brunch a brunch?
The time of day the meal is served defines it. The word brunch is a combo of breakfast and lunch, hence it's served after one and before the other – usually starting around 10am or 11am.
What is the best time to serve brunch?
Traditionally, brunch is served around 10am or 11am.
How many dishes do you serve at a brunch?
Usually at least 3 – one main dish, two sides (one sweet, one savory, or two sweets if your main dish is savory). If you have a larger group (10 or more) I recommend adding a second main dish – and offer one sweet and one savory.
How do you set up a Christmas brunch?
I find it's easiest to serve brunch for a larger group (10+) as a buffet. For less than 10 people, you can either serve buffet, family style or plated.
How long should brunch last?
That's entirely up to you and your family! If inviting guests to your home for Christmas brunch, I would invite them for 11am (allow time for present opening, church, etc.), serve by 11:30am and expect them to be leaving by around 1:30pm.