Discover a collection of more exclusive recipes in both of Lee's books,
A Well-Seasoned Kitchen and Fresh Tastes. Order Now (Free Standard Shipping)
This dish takes all the flavors you find in many Mexican dishes – chicken, black beans, green chiles, corn, salsa, cilantro, cumin – and combines them together into a scrumptious, hearty baked dish. It takes just minutes to prepare (minimal chopping – yay!) – and for those super busy days, you can make it ahead of time and then just pop it in the oven around 30 minutes before you want to eat dinner. What could be easier? Enjoy!
[Note: this is an update to an earlier post. New photo, plus I tweaked a few of the ingredients slightly and added salsa and guacamole on the side.]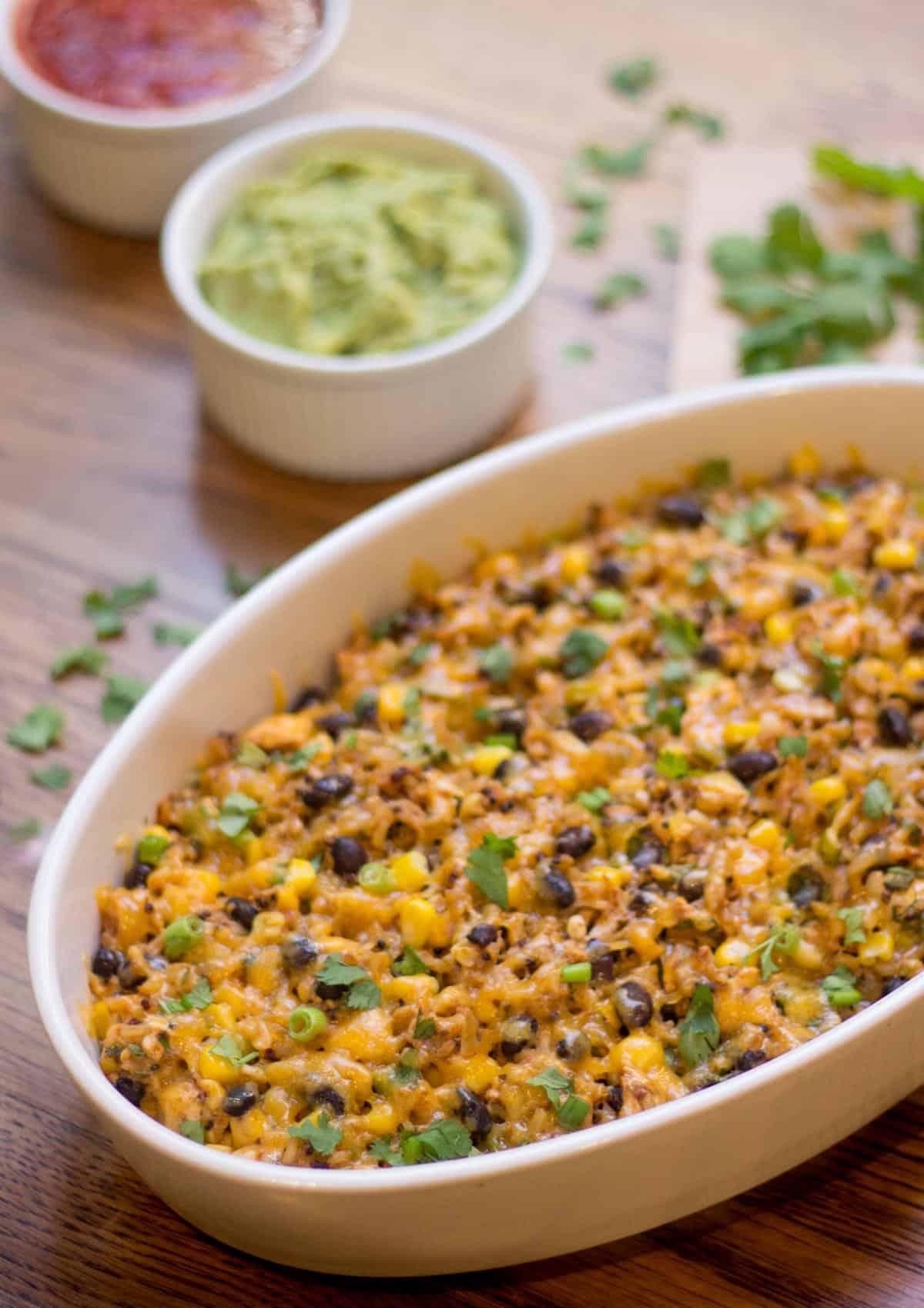 Ingredients
1½ cups chopped cooked chicken (rotisserie works well)
2 cups cooked brown and wild rice mix (can also add quinoa)
1 can (4 ounce) chopped green chiles, drained
1 cup canned black beans, drained and rinsed
1 cup corn, fresh or frozen (no need to thaw the frozen corn)
½ cup salsa (I like to use Pace Picante, medium), plus more for serving
½ cup sour cream (regular or low fat)
1 cup shredded sharp Cheddar cheese, divided
5 to 6 chopped green onions, white and some of the green part
3 to 4 tablespoons chopped fresh cilantro (optional)
2½ teaspoons ground cumin
3 teaspoons chili powder
¼ to ½ garlic powder
kosher salt, to taste
fresh ground pepper, to taste
Prepared guacamole
Instructions
Preheat oven to 350 degrees. Spray a 2 quart baking dish with olive or grapeseed oil (an 8 by 8- or 7 by 11-inch dish works well).
In a large mixing bowl, combine all the ingredients using only ½ cup of the Cheddar cheese. Season to taste with salt and pepper.
Spread evenly in the prepared dish and top with the remainder of the Cheddar cheese. Bake for around 25 minutes or until heated through. Serve additional salsa and prepared guacamole on the side.
Notes
Make ahead: Casserole can be prepared earlier in the day, covered and refrigerated. Bring to room temperature before baking, and increase cook time by around 5 minutes.