The holidays are upon us – which means we're all decorating, shopping, wrapping – and cooking! Thinking about entertaining this season – maybe a special holiday dinner or New Year's Eve celebration? If so, I have five scrumptious, elegant, make ahead desserts for you to pick from. From my selection of crowd-pleasing cakes, pies and puddings – one's even frozen! – I'm sure you'll find the perfect dish for your event. All can be made ahead, anywhere from 8 hours to 1 month before your party. So have fun cooking this holiday season and whip up one of these delectable delights!
My husband Robert and I love frozen Brandy Alexander drinks so much we served them at our wedding reception after dinner! In seeking new ways to use the flavors of our favorite drink, I created this recipe one Christmas and everyone loved it. The basic mixture of vanilla ice cream, good quality brandy and crème de cacao is poured atop a cinnamon and graham cracker crust and then frozen. Simply sprinkle some nutmeg over the top just prior to serving and you have a pretty, absolutely amazing dessert – that you can make up to 1 month ahead of time!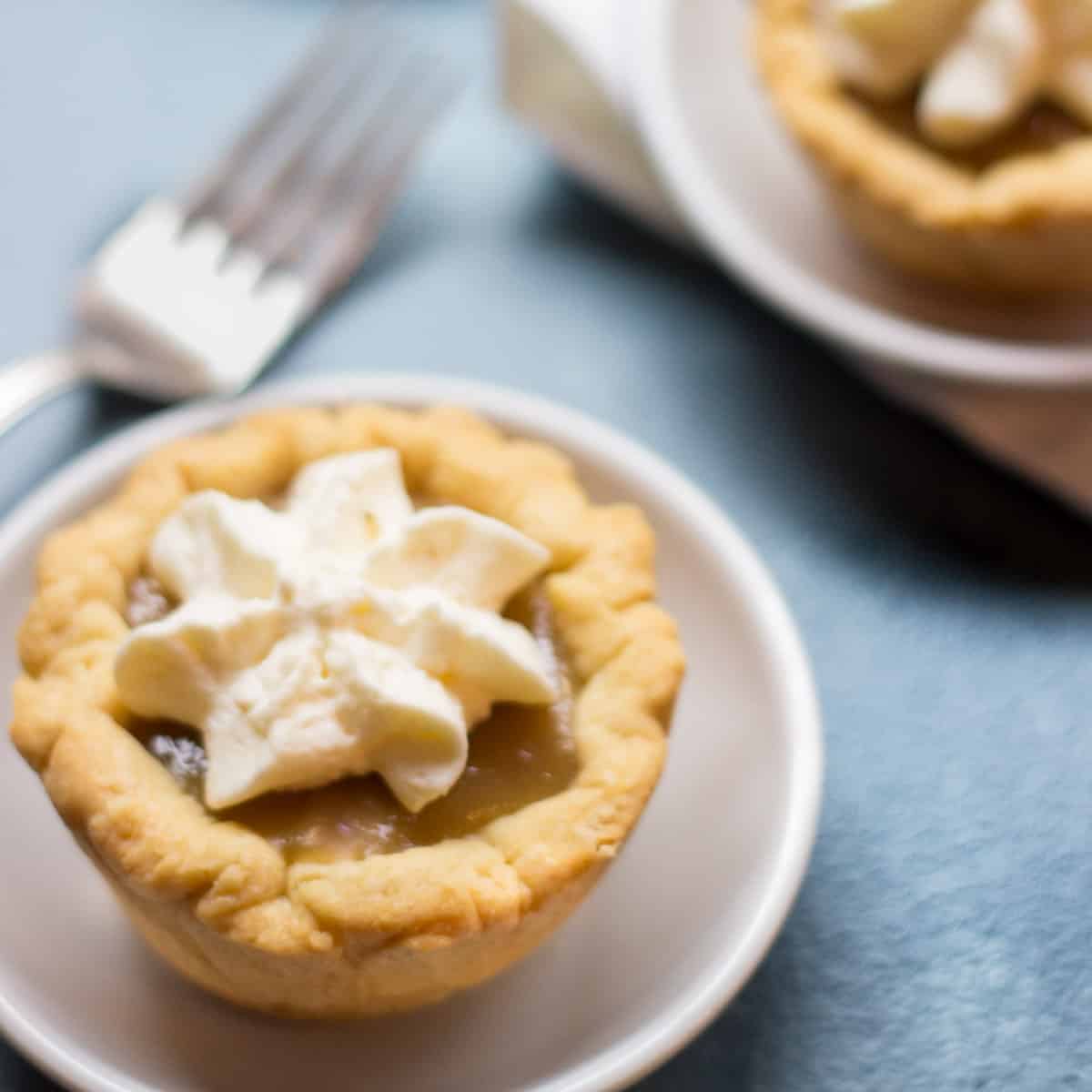 These small muffin-sized Individual Butterscotch Pies are adorable and, well, absolutely heavenly. The crust is light and flaky (due to the addition of baking powder), the filling rich and delicious. I love anything with caramel or butterscotch, and for this recipe you cook the filling on the stovetop, cool it a bit and spoon it into baked mini pie shells and then spoon or pipe whipped cream on the top. Can be made up to 24 hours in advance.
My brother Jim and I always loved this apple cake as kids. The combination of tart apples with sugar, cinnamon, allspice, cloves and nutmeg is mouth-watering-ly delicious. Dark, rich, flavorful – and beautiful to present. I like to make it in a Bundt pan, and serve it on a cake stand with a small bouquet of flowers in the middle. Cake will keep for several days, covered and refrigerated.
I was first introduced to the delicacy Sticky Toffee Pudding while living in Europe, and have been in love with it ever since. Chopped dates are baked into a moist sponge cake, which is then topped with a rich caramel sauce. I like to serve it with rum-flavored whipped cream. Pudding can be baked earlier the day of serving.
In this recipe, a flavorful pumpkin pie filling is spooned atop crushed gingersnap cookies, crystallized ginger and rum, in pretty pots de crèmes (or wine glasses or ramekins). The result is an elegant, scrumptious dessert that can be made up to 24 hours in advance.
Enjoy!!