This Spicy Rubbed Pork Tenderloin dish is quick and easy enough for an everyday dinner and also elegant enough for entertaining!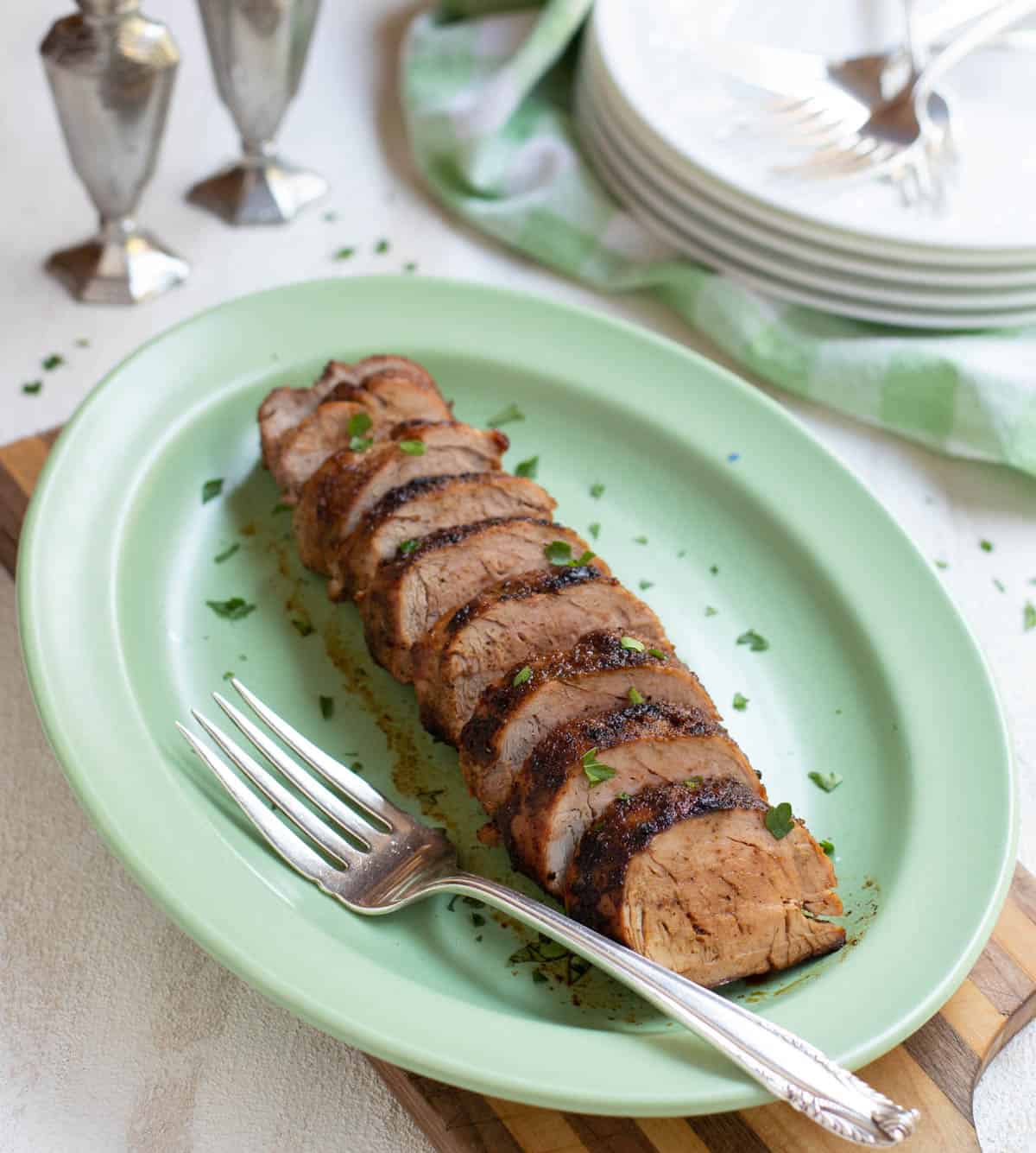 I really love preparing pork tenderloin. It's super delicious, extremely versatile and can be elegant in its presentation. This pork recipe is particularly easy and flavorful. Brown sugar brings out the sweetness of the pork, and the combination of three ground peppers – cayenne, black and white – add spicy heat. And garlic and onion powder amp up all the flavors! Robert is particularly fond of this dish.
Many of my easy recipes have been born while my husband Robert and I were camping in our airstream trailer. One evening, we had been fly fishing all day and returned to the trailer tired and hungry. I opened our pantry (which is pretty small!), pulled out some brown sugar and a variety of spices, and started mixing – and this rub was the result. After returning home to Denver, I made it a few more times, tweaking the proportions. It's a bit on the spicy side – but you can modify it to your taste by increasing or decreasing the ground peppers, especially the cayenne.
Note: the original recipe calls for grilling the pork; you can also roast it – see Variation below.
Pin it now to save for later!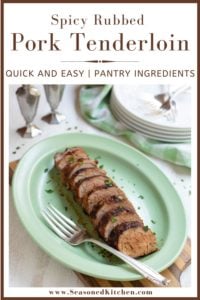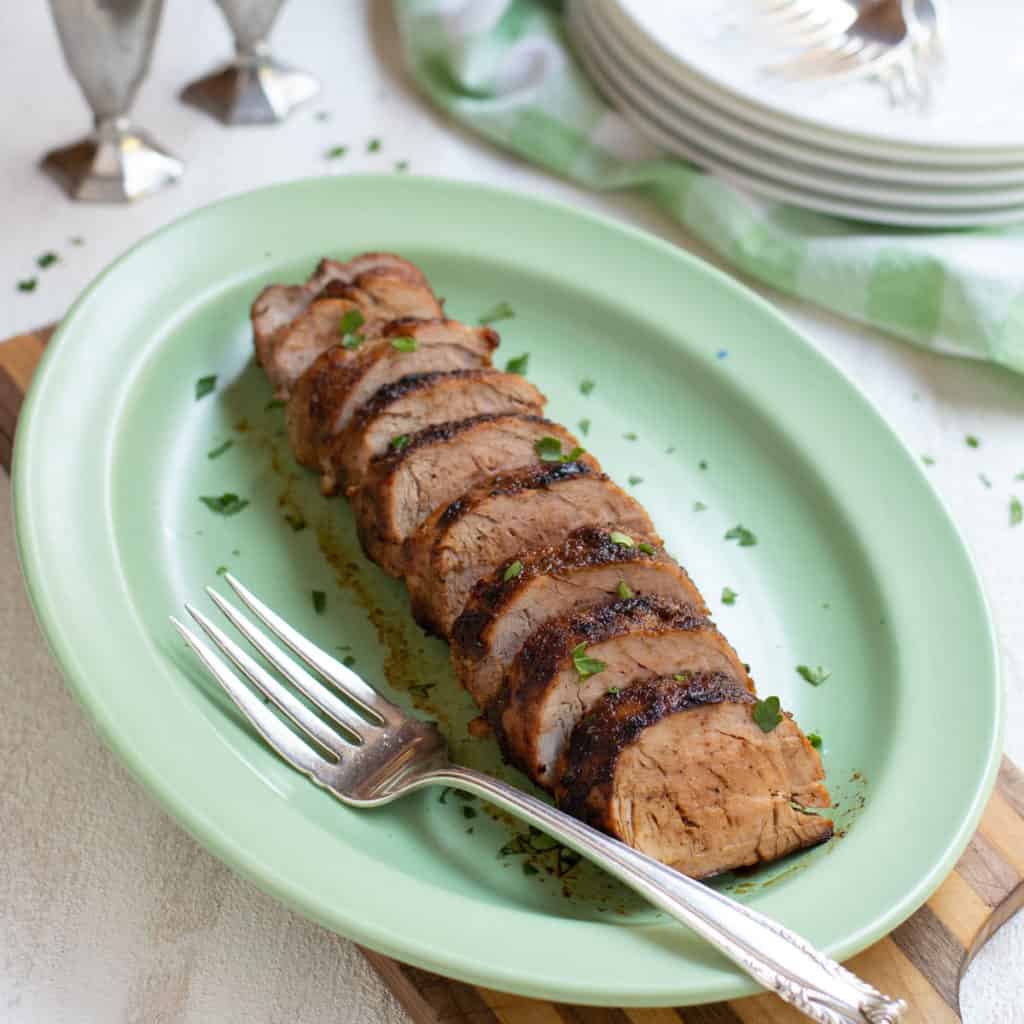 Spicy Rubbed Pork Tenderloin
Author:

Yield:

4

servings

1

x

Category:

Pork main dish, gluten free, grilling
---
Description
This Spicy Rubbed Pork Tenderloin dish is quick and easy enough for an everyday dinner and also elegant enough for entertaining!
---
1 tablespoon paprika
1 tablespoon kosher salt
2 teaspoons packed light brown sugar
1 heaping teaspoon garlic powder
1 heaping teaspoon onion powder
3/4 teaspoon cayenne pepper, or to taste
3/4 teaspoon ground black pepper
3/8 teaspoon ground white pepper
1 (1 1/4 to 1 1/2-pound) pork tenderloin
2 tablespoons extra virgin olive oil, or as needed
chopped Italian parsley, for garnish
---
Instructions
In a small bowl, whisk together the paprika, salt, brown sugar, garlic powder, onion powder, cayenne pepper, black pepper and white pepper until well mixed.
Rub tenderloin all over with olive oil.
Rub with spice mixture to coat all sides – you'll need around 2 tablespoons, so you're likely to have some rub leftover, which you can save for the next time! If you let the meat sit for an hour with the rub on, it will allow the flavors to blend together. But it's still delicious if you just let it sit while the grill heats!
Prepare a medium-hot fire in a charcoal grill or preheat a gas grill to medium.
Oil grill rack. Grill tenderloin, covered, for 7 minutes. Turn over and continue cooking, covered, for another 5 to 10 minutes or until a meat thermometer inserted into thickest portion registers 145 degrees.
Let rest for 10 minutes before slicing and serving. Garnish with chopped parsley.
---
Notes
Roasting Variation: Preheat oven to 450 degrees. Spray a roasting pan large enough to hold the pork with nonstick cooking spray. Place rubbed tenderloin in the prepared pan, tuck under the pointy thin end, and roast for 10 minutes. Turn tenderloin over and continue roasting for another 10 minutes (20 minutes total) until done.