Discover a collection of more exclusive recipes in both of Lee's books,
A Well-Seasoned Kitchen and Fresh Tastes. Order Now (Free Standard Shipping)
Easter is just two weeks away, so it's time to start planning the day – collecting goodies for baskets, confirming timing for church services and, of course, scoping out the brunch menu! Growing up, holidays were a big deal in our family, pretty much because it was a time for our extended family to gather together and share a scrumptious meal. As a kid, I remember the excitement of picking out my special Easter party dress with matching hat, gloves and purse. Here I am in my Easter finest one spring, together with mom and dad and my brother Jim:
We often were in Arizona visiting my grandparents on Easter, but as my brother and I got older, we starting spending Easter in Denver and transitioned from partaking in a big Easter supper to a simpler brunch. Now, I love brunch. Not just for the food itself – I think that the biggest secret in entertaining is brunch. It's inexpensive and easy! There are tons of recipes suitable for a brunch that are uncomplicated to prepare and can be made ahead of time – a host or hostess's dream come true. In fact, I have so many brunch recipes that I adore, I thought instead of sharing with you a set menu, I would provide 10 different dishes, from which you can "mix and match" your own special menu.
Enjoy!
Mix and Match Easter Brunch Menu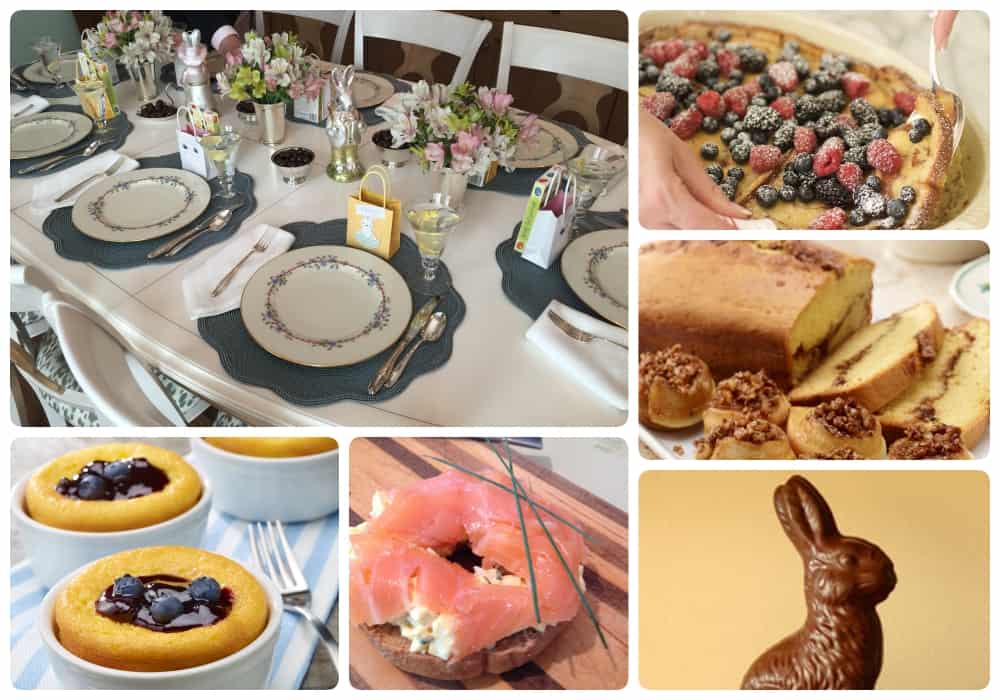 Starter:
Toasted Bagels with Egg Salad and Smoked Salmon (Fresh Tastes, p.48) – can use mini bagels
Savory main dish (pick one):
Sausage, Mushroom and Pepper Strata (A Well-Seasoned Kitchen®, p. 35)
Southwestern Chile-Cheese "Soufflé" (Fresh Tastes, p. 38)
Sweet main dish (pick one):
Cheese Blintz Soufflés with Blueberry Balsamic Sauce (Fresh Tastes, p. 40) – can make in one dish or individual
Cinnamon Raisin Bread Custard with Fresh Berries (A Well-Seasoned Kitchen®, p. 38)
Sweet sides (pick one – or perhaps two if you love sweets like I do):
Mini Sticky Pecan Rolls (Fresh Tastes, p. 49)
Cinnamon Loaf (Fresh Tastes, p. 50)
Orange Marmalade Coffee Cake (A Well-Seasoned Kitchen®, p. 48)
Optional additional sides:
Spiced Bacon Twists (Fresh Tastes, p. 43)
Caribbean Fruit Salad in a Citrus-Ginger Sauce
Dessert:
Purchased Easter candy (preferably chocolate!)